Sponsored Content
---
Rockets, Starlink and Deep Space Exploration — Will SpaceX Really Be Worth More Than Tesla?
A recent survey by Morgan Stanley revealed that most institutional investors and industry experts believe SpaceX to become more valuable than Tesla over the long term. Along with the crash happening in both public and private markets, SpaceX capitalization growth shows no signs of deceleration. 
Why are investors so confident in SpaceX and what this company could be worth in 10 years? Here are some facts highlighted by analysts at Dizraptor, a pre-IPO investing app.
SpaceX Leading the Industry
SpaceX is clearly perceived as a leader in the Space Economy as it is operating on different markets: rocket launches, satellite internet and transportation. These types of businesses create an economic and technological flywheel for the company. 
SpaceX's industry leading launch costs provide a competitive advantage to the deployment of LEO (Low Earth Orbit) satellite constellations, further enabling development of even more complex launch architectures (Starship). This, in turn, enhances the moat in satellite launch costs. 
Started launching satellites in 2019, the company now has already more than 2,500 Starlink satellites in orbit, a constellation far larger than any other satellite system today. Musk expects to have more than 4,200 satellites in operation within 18 months. This would represent about two-thirds of all active satellites globally. SpaceX has signaled it eventually intends to launch as many as 42,000 satellites.
In terms of active customers, Starlink continues to scale at a rapid pace – the company has recently reported 400K+ global subscribers, up from 250K in March 2022 and 150K in December 2021. This implies more than $500M recurring revenue given $110 average revenue per user. Starlink also continues to expand its coverage globally with service now available in more than 30 countries.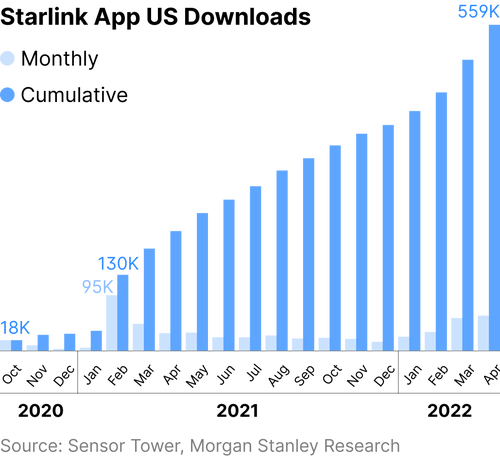 Morgan Stanley has even constructed its own valuation model for Starlink business. According to their analysts, the base case valuation stands at $81B. In their long term 2040 view the Starlink system can offer "250 Gb/s per satellite of capacity of which 4.5 per cent is saleable and has a potential subscriber base of 364 million. The bank also assumes that the constellation is fully deployed by 2032 and comprises 42,000 satellites in orbit."
What $81B Starlink number means for investors in SpaceX, according to Morgan Stanley? Well, definitely they justify SpaceX valuation of $120B at the moment.
Aerospace & Defense in Focus
As of H1 2022, Aerospace and Defense has been the most traded industry in private markets, likely because of SpaceX. It seems like private investors still want to pour large amounts of capital into space startups. Geopolitical tensions fuel the space – expect A&D investment levels to remain high in the upcoming years.
In 2021 Space startups attracted over $15B in total financing, breaking the $7.7B record set in 2020. The average VC investment size and VC deals over $100M also demonstrated record numbers.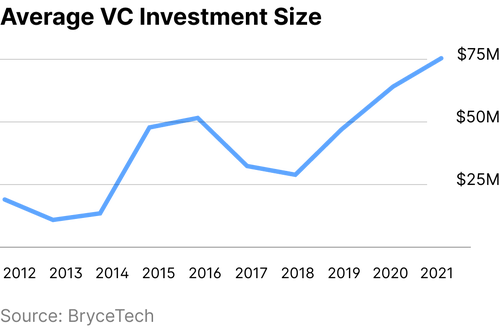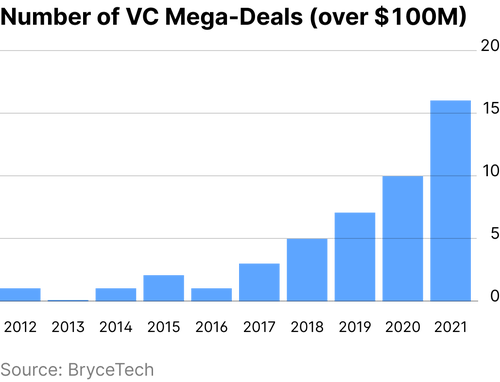 The US defense budget is seeing a dramatic increase. The 61st Annual National Defense Authorization Act (NDAA) agreement supports $778B in funding, a 5% increase for 2022. Joe Biden has requested a $26B budget for NASA in 2023, the highest request ever for the agency.
It is clear that the US government has to expand its focus into A&D given all the tensions with Russia and China. China in return is accelerating its space program at lightning speed. The country is completing its space station later this year, it aims to launch two mega constellations of 13,000 satellites, send crewed probes to the far side of the Moon for exploration and asteroid mining, and land humans on Mars by 2033. So will space be the next battlefield?
Gen Z Wants to Work for Elon Musk and for the Big Dream
Who wins the best talent, wins the space. SpaceX and Tesla are the most desirable places to work for engineering graduates, according to the recent survey.
In addition, "29% of students are interested in living and working in outer space if given the opportunity. Billionaires Elon Musk and Richard Branson play a huge role in this newfound interest. Gen Z is adventurous. Musk and Branson have a vision for changing the world, not only on Earth but beyond. And when these young people see the accomplishments of these two entrepreneurs, they feel like it's a doable frontier to master. So now we have young people saying, 'gosh, I could do that."
SpaceX Aiming for Quantum Computing Breakthrough? 
According to Adam Jones at Morgan Stanley, SpaceX could be "at the forefront of a radical change in communications using quantum physics." Jones believes that by applying the principles of quantum communications to space, the company stands to even further diversify its operating model.
"From a SpaceX perspective, the commercial potential of quantum communications networks and its potential advantages of its rapidly deploying in-space comms architecture may provide significant optionality to the story and its valuation."
In Dec 2021 Elon Musk responded to Ars Technica article stating that "Starship will enable a quantum leap in deep space & planetary science." As usual, Musk did not specify any information about what Starship can do, especially with regard to quantum science and its development within SpaceX. Starship going quantum may sound like a crazy sci-fi movie idea, but it is something that the world could soon come to.
Base on the Moon and a City on Mars
Another huge potential market for SpaceX is deep space exploration, which is estimated to reach $700B by 2030. Elon Musk is promising a mission towards the next planet before this decade ends. 
NASA has chosen Starship to send its first crewed lunar lander for their Artemis program, which aims to put astronauts down within the moon's south pole in 2025. SpaceX is currently working on a big milestone for Starship's development – the vehicle's first orbital test flight, which could happen within months.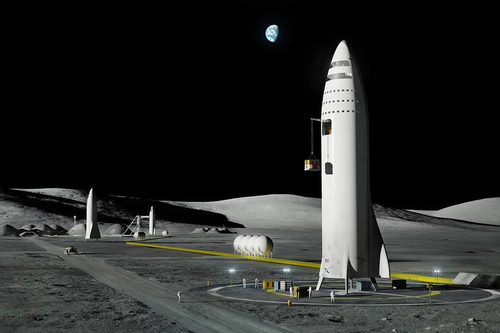 Rocket Air Delivery Seems More Real
SpaceX is about to create a new category of rocket air delivery for same-day international deliveries and four to six-hour delivery between continents or from east coast to west coast.
According to Brian Wang, a Futurist Thought Leader, "SpaceX Starships will cost over ten times less than current cargo planes, have over twice the range and will be thirty times faster. These massive advantages will give SpaceX dominance of the cargo business."
"A Boeing 767-300 in cargo configuration can move 56 tons of cargo and costs $220M. The range is up to 3,765 nautical miles and the speed is 530 miles per hour.
A mass-produced SpaceX Starship will have 80-120 tons of cargo capacity and cost $5-20M each. The range is up to 7000 nautical miles and speed will be up to 20,000 miles per hour."
Earlier in 2020, The U.S. Transportation Command partnered with SpaceX and two Texas-based companies to develop the potential use of rockets to rapidly deliver cargo around the world.
What Are the Risks With SpaceX?
Certainly, SpaceX is operating in a high-risk growing market and many things can go wrong. The company is burning a lot of cash while having high overall costs. Given the rising interest rates environment, SpaceX might experience problems in fundraising. The company already had some troubles in the past. In December 2021 Musk admitted: "the lack of progress towards the company's Raptor engines puts the company at a genuine risk of bankruptcy."
The internal atmosphere in the company looks windy. Some of the SpaceX employees sign an open letter to company executives denouncing Elon Musk's behavior. The letter describes how Musk's actions and the recent allegations of sexual harassment against him are negatively affecting the company's reputation.
Speaking of the space exploration and Mars colonization, a lot of issues need to be solved – high levels of radiation (astronauts could receive radiation doses up to 700 times higher than on Earth), thin atmosphere (life on Mars would be impossible without a hefty supply of air), food and water production in space and others. However, whether or not Elon Musk is able to explore planets, SpaceX is in the best position to give it a shot.
When Will SpaceX Go Public?
It seems like Musk is not in a hurry as he recently mentioned that "being public is definitely an invitation to pain." Indeed, being a public company requires much more effort to support the operating activities and align with strict administrative policies. Since most of the company's projects are in the development phase, do not count on an IPO in the near term. 
However, it is possible to become a SpaceX investor before the company goes public. In Dizraptor, a private equity investing app, an investment in SpaceX is available to accredited investors from $1,000. 
Download Dizraptor app to invest in SpaceX and benefit from the growth of the private space leader!
This post is sponsored content and Zerohedge has been compensated for its publication.