---
$16 Billion... Over 50 Million Americans Will Bet On The Super Bowl
On Super Bowl Sunday, more than 100 million Americans are expected to watch the NFL championship game between the Kansas City Chiefs and the Philadelphia Eagles on television. For the increasing number of sports fans, watching the game isn't enough anymore, and many have placed bets on the world's biggest one-day sporting event.  
The American Gaming Association (AGA) estimates a record 50.4 million American adults will bet on Super Bowl LVII, with legal and illegal wagers totaling $16 billion (with around 30 million Americans gambling online). That's a 61% increase in the number of betting adults and more than double in total wages compared with last year's figures. 
Additionally, around 28 million Americans plan to bet with friends and families or coworkers via pools and contests, the group added. 
The expansion of legal sports betting has fueled the number of Americans placing bets on the big game today. WSJ explained the championship game, for the first time, is being held in a state where sports betting is legal.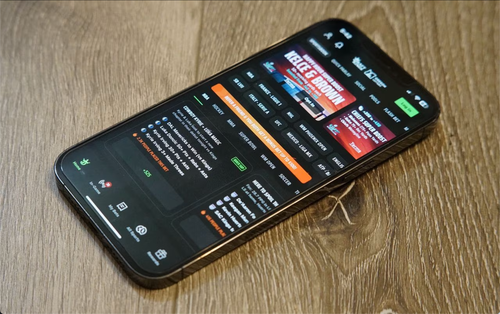 While at State Farm Stadium in Glendale, Arizona, today, fans can access their smartphone betting apps to place bets during the game. 
"The fact that the Super Bowl is being played in a legal sports-betting state was almost unthinkable five years ago."

"It's a testament to the progress we're making," Bill Miller, chief executive of the American Gaming Association, said in a statement. 
With the Super Bowl expected to be a very close matchup, DraftKings Inc.'s implied win probability is currently showing Eagles.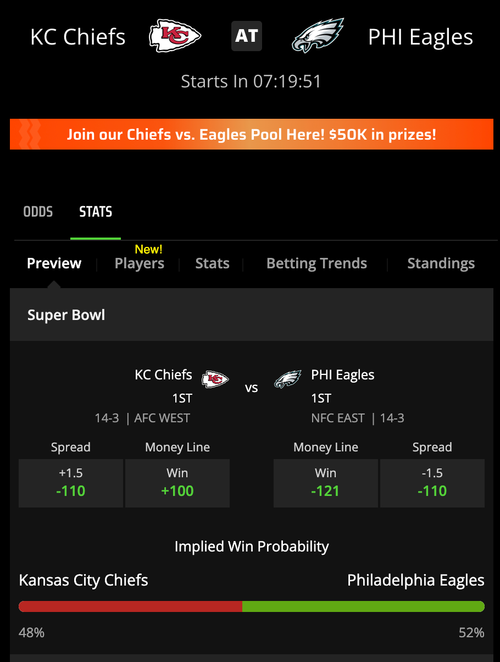 Interest in legal sports betting continues to expand as 36 states and the District of Columbia have legalized it since 2018. 
For sportsbook apps, such as FanDuel Group and DraftKings Inc., location detection software is used by GeoComply to ensure users place bets in legalized states. They told WSJ that more than 550 million geolocation checks for NFL playoffs were completed between Jan. 14 and Jan. 29 -- a 50% increase from the same time last year. 
The ability to place bets on mobile devices across dozens of states will only imply total wagers for the big game are rising exponentially over time.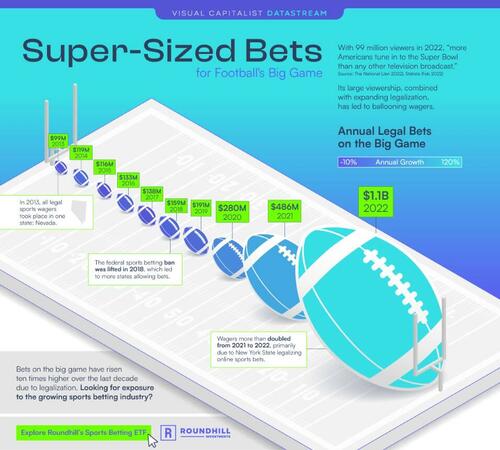 Let's hope these gamblers aren't using high-interest credit cards to place bets today. 
Loading...