---
Air Force Conducts Ground Test Of Hypersonic X-60A Missile
President Trump revealed earlier this month that the US is currently developing hypersonic missiles and touted that the weapons were "big, powerful, lethal, and fast."
Trump's mention of hypersonic missiles occurred during his national address last Wednesday as he spoke about escalating tensions with Iran.
Key points from Trump's address to the nation:

*Backs down from taking military action against Iran
*Production of hypersonic missiles underway
*More sanctions on Iran
*US "no longer needs Middle Eastern oil"
*Reminds Americans that al-Baghdadi is dead https://t.co/gKGZKaLlpg

— GlobalObserver (@GlobalObserver4) January 8, 2020
"Our missiles are big, powerful, accurate, lethal, and fast, "Trump said. 
"Under construction are many hypersonic missiles. The fact that we have this great military and equipment, however, does not mean we have to use it. We do not want to use it. American strength, both military and economic, is the best deterrent," he added.
The hypersonic missile under development that President Trump was likely referencing is the US Air Force Research Laboratory's (AFRL) X-60A, an air-launched, single-stage rocket designed to reach speeds of Mach 5 to March 8, reported Flight Global. 
AFRL moved a step closer to initial flight tests after it recently conducted test firings of its engines while on the ground at Cecil Spaceport in Jacksonville, Florida.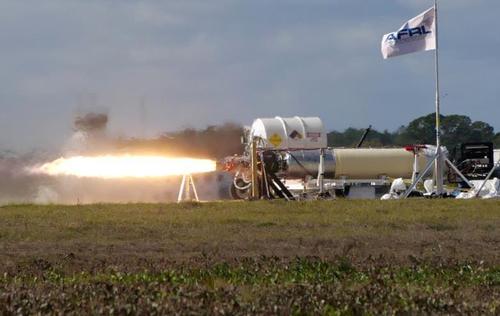 "This test series was a critical step in reducing risk and gathering necessary system integration data in preparation for our upcoming flight tests," said Barry Hellman, AFRL X-60A program manager.
The X-60A has been designed to be air-launched from the undercarriage of a NASA C-20A, a military version of the Gulfstream III. 
The initial flight test could take place in the second half of this year: "When we go to flight later this year, we hope to demonstrate the capability of the X-60A to provide affordable access to hypersonic flight conditions, which will position AFRL to deliver an innovative test capability for the Air Force and other [US Department of Defense] organizations," Hellman said. 
The hypersonic race is well underway. It has been said the US is falling behind the curve in hypersonic development as Russia and China race ahead with test flights and deployments. 
The next global conflict will be fought with fifth-generation stealth fighters and hypersonic missiles.