---
Amazon's Autonomous 'Zoox' Taxi Now Being Tested On California Roads
Amazon's autonomous vehicle venture Zoox announced on Monday that it's now testing self-driving robotaxis on California public roads with passengers on board.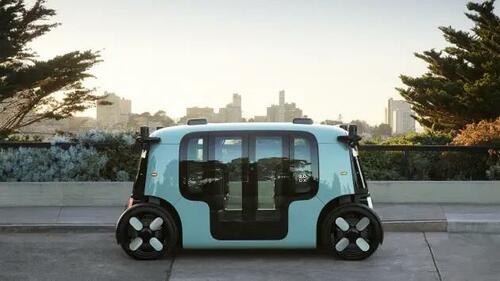 The vehicles, which look like tiny buses, have no steering wheels or pedals, and have bidirectional driving capabilities with four-wheel steering, allowing it to change directions without reversing, CNBC reports.
The on-road tests commenced after the California Department of Motor Vehicles gave them the green light last week - limiting testing to shuttling Zoox employees on a one-mile public route between two office buildings at the company's Foster City headquarters - and at speeds not to exceed 35 MPH.
According to executives, 'dozens' of them have been built - one of which shuttled employees around over the weekend.
Amazon acquired the 9-year-old startup in 2020 and, at the time, shared few details about how it planned to use the company's technology. Zoox unveiled its custom-built, electric robotaxi in 2020, with an eye on offering on-demand autonomous transportation in urban settings.

On a call with reporters, Zoox executives declined to say when the company will launch a commercial robotaxi service or open up testing beyond the limited route and employee participants. It will continue to test the vehicle with employees and expects to launch a shuttle service for staffers this spring. -CNBC
Interestingly, while companies testing driverless vehicles on California public roads are required to report every time the system disengages - or when a human driver has to take over, Zoox doesn't.
"If the vehicle is in a situation where it needs help because either it needs to do something it's not normally allowed to do, or because it doesn't know how to handle a situation, we have what's called a 'fusion center,' with trained guidance operators monitoring the output of the scene and then will give guidance to the vehicle and either give it permission to do something — but the vehicle is still in charge and does all the driving — or drop breadcrumbs on alternative trajectory, or in the worst-case scenario pull over," Zoox CEO Aicha Evans said in a statement to reporters.
That's comforting.
Loading...