---
Apple's Crash Detection Feature Triggers False 911 Calls At Ski Resorts
Apple's Crash Detection feature is causing severe headaches for emergency dispatchers around ski resort areas. 
Skiers and snowboarders, with supported iPhone and Watch models, have been hitting the slopes this season and occasionally take a tumble. Their devices, packed with high-tech sensors, like the accelerometer and gyroscope, as well as advanced motion algorithms, mistakenly believe the user has been in an automobile crash. 
Suppose skiers and snowboarders don't respond to the cash notification within 20 seconds. In that case, the devices will automatically call 911 with an automated message that indicates, "The owner of this iPhone was in a severe car crash."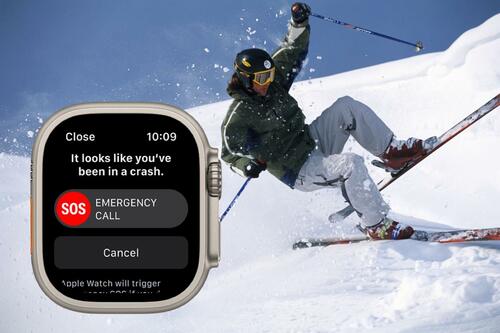 A report from NYT said emergency dispatchers in Colorado had been inundated with false distress calls due to the crash detection feature. 
Lately, emergency call centers in some ski regions have been inundated with inadvertent, automated calls, dozens or more a week. Phone operators often must put other calls, including real emergencies, on hold to clarify whether the latest siren has been prompted by a human at risk or an overzealous device.

"My whole day is managing crash notifications," said Trina Dummer, interim director of Summit County's emergency services, which received 185 such calls in the week from Jan. 13 to Jan. 22. (In winters past, the typical call volume on a busy day was roughly half that.) Ms. Dummer said that the onslaught was threatening to desensitize dispatchers and divert limited resources from true emergencies. -NYT 
Last year, Apple introduced Crash Detection for iPhone 14 models and Watch Series 8. False alerts started popping up at theme parks last summer when the devices thought people on rollercoasters experienced a car crash. And the same thing happened: The devices flooded 911 operators with false alerts. 
Apple needs to get a handle on this mishap or have its own call center if they want to continue with this feature. Bogging down emergency dispatchers with false alerts is a significant problem that needs to be fixed immediately. How did Apple technicians miss this? 
Loading...