---
Automated Vehicles With No Steering Wheel Or Pedals Hit US Roadways
Driverless vehicles without steering wheel or pedals are already hitting US roadways and could revolutionize how people move about. There's already one brand of autonomous vehicles on US roadways, with another two companies working to debut their automated transportation services soon. 
In a note released Tuesday, BloombergNEF analyst Siong-Hu Wong covers the top three autonomous vehicles without steering wheels set for commercialization. 
The first is Amazon-owned Zoox's electric VH6 shuttles are already operating on California public roads. The robotaxi service is only available to employees for now but expects approvals by the state government will allow the service to be offered to the general public near-term. 
In February, General Motors-backed Cruise received permission from California's Department of Motor Vehicles to test its Origin shuttle on roadways. 
Another robotaxi is Waymo's Zeekr M-Vision, which will enter production next year. The Zeekr is similar to the other robotaxi-makers.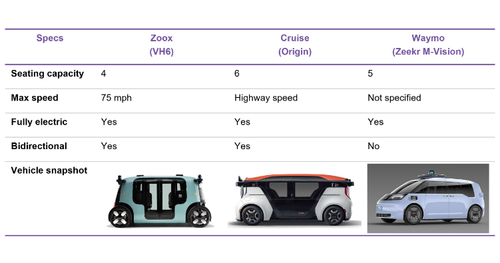 Automated vehicles, or the shuttles above, could be the biggest thing to hit the auto industry ever. It will entirely change the way people get around. 
However, the dystopic thing about this all is that Americans must give up owning cars and instead rely on robotaxi companies for transportation. The problem with that is control. 
Loading...