---
Biden Admin Quietly Admits Worst Ever Illegal Crossing Numbers As Axios Declares Border "More Fortified Than Ever"
Gaslighting much...?
Presumably these two things can be correct at the same time:
1) The US southern border is "more fortified than it's ever been" - Conservatives 'open-border' term is a myth, according to Axios...

2) CBP quietly revealed on Saturday that in September the highest ever number of encounters with illegal immigrants attempting to cross into the country was recorded, and that close to 2.5 MILLION have crossed the border this fiscal year.

🚨 BREAKING: 269,735 illegal immigrants were encountered at the southern border in September — the highest number EVER recorded in a single month. pic.twitter.com/TzwEu7aC9s

— RNC Research (@RNCResearch) October 21, 2023
If both these 'facts' are true, then the Biden administration has a major problem.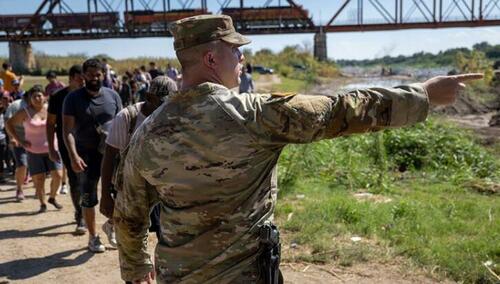 One (or more) of three things are possible: 
a) the border agents are f**king useless (which we know they are not - see Musk's recent trip and Tucker Carlson's recent interview)
A new influx of immigrants arrive at the U.S. southern border. @MattRiversABC has the latest on the spike.https://t.co/s5XgPCE3k0 pic.twitter.com/eELoyvDIpu

— This Week (@ThisWeekABC) September 24, 2023
b) Axios is acting as a useful idiot in projecting a 'strong border' (physically) that we now know is the most porous in terms of doing its jobs ever;
.@RussContreras how do you write this ridiculous article without even speaking to anyone from Border Patrol, CBP, or DHS? Your only quote is from the Cato Institute, & you don't even acknowledge Congressional testimony from Border Patrol leadership that the border is not secure.

— Bill Melugin (@BillMelugin_) October 17, 2023
or c) there really is an 'open border' (legal) policy.
"We don't have open borders because the U.S. government is attempting to stop as many people who cross the border as they can," David J. Bier, associate director of immigration studies at the Cato Institute, tells Axios.

"If the administration was pursuing any kind of open border policy, the number of people being arrested would be dropping. And that's not the case. They're arresting and expelling as many people as ever."
More gaslighting.. what percentage of those 'formally arrested' (and then released) turn up for their court asylum hearing?
Referring to the CBP figures, Donald Trump Jr. noted:
"So we understand what the invasion looks like," adding "267 terrorists (these were caught imagine how many got through?), 8M+ illegal aliens since Biden took office, 72,823 illegal special interest aliens (from countries that harbor terrorism) over the last 2 years."
"This is not an accident or a coincidence, this is deliberate by Democrats and it will destroy our country," Trump Jr. concluded.
We give the last word to Tucker's guest - Dominik Tarczynski, a European Parliament member from Poland - who had some advice for conservative lawmakers facing these record numbers of illegal immigration:
"Be brave... or you will not exist. Be brave... believe in your values, believe in family. Don't talk about it, do it! This is war, this is not a joke."
As Carlson warned if we do not act: "The result is a country, our country, that is changing faster than it ever has but not through Democratic means."
Loading...