---
China Unveils Plan To Mass Produce Human-like Robots, Calling It 'New Engine' For Growth
Authored by Eva Fu via The Epoch Times (emphasis ours),
China is setting out to mass produce human-like robots in two years, an ambitious plan that, according to a blueprint issued by the Ministry of Industry and Information Technology (MIIT), it hopes will make the regime in Beijing the leader in the field of robotics.
The goal is to establish an innovation framework for humanoid robots and ensure that the country can make core parts of the robots on its own.
The products, under the MIIT plan, will meet advanced international standards in quality, for use in harsh environments, manufacturing, and service sectors, according to the directive. Like smartphones, computers, and new energy vehicles, humanoid robots have the "disruptive" potential to "revolutionize" people's lives, the document said.
The ministry told local officials to take advantage of China's market size and its "whole-of-nation system" to accelerate humanoid robot development as a pillar industry to advance China's manufacturing and digital dominance.
Beijing hopes that by 2025 it will have two to three companies with global influence and will nurture more smaller businesses dedicated to the field. In another two years, the aim is to create a "safe and reliable supply chain" for the technology and make the country competitive globally. At that point, it said, such products will be deeply integrated into the economy and become a "new engine" for economic growth.
The "brain," "cerebellum," and "limbs" of the robots should be the focus, and the industry should aim at creating "highly reliable" robots for harsh or dangerous conditions, the guideline said. When monitoring and safeguarding "strategic locations," robots need to be able to move in "highly complicated terrains," size up the situation, and make intelligent decisions, it said, adding that robots will need greater ability to protect themselves and work with higher precision in scenarios such as rescue work or where explosives are involved.
Relevant authorities need to deepen international cooperation, encourage foreign companies to create research centers in China, and bring Chinese products to the international market, according to the document.
Eager to partake in setting the global standard for emerging technology, Beijing said it'd like to get "deeply involved in the international rules and standard setting" and "contribute Chinese wisdom" to the industry's development, the document said.
The directive is China's latest attempt to boost technological self-reliance as the United States tightens its ban on China's access to advanced U.S. chips. Expanding on chip controls on China from October last year, the Bureau of Industry and Security of the Commerce Department in mid-October required more U.S. firms to obtain a license before they could export advanced semiconductor chips to China, a step they said is necessary to prevent Beijing from using these chips for their military ends. On Oct. 23, the U.S. government told Nvidia to stop shipping most of its key artificial intelligence chips to China.
Without citing those actions by the United States, the document asked the industry to design AI chips for humanoid robots that would allow for self-learning and other capabilities.
Half a dozen Chinese intelligence firms saw their shares jump by as much as 20 percent the day after the announcement, and stock value for other robotic electronics also surged.
The Beijing regime's roadmap means it will be competing with international firms such as Samsung, Microsoft, and Tesla that are investing in the field.
Tesla CEO Elon Musk has been trying to build a humanoid robot called Optimus or Tesla Bot. After much hype last year, though, the display of the robot walking slowly on the stage and waving to the crowd fell short of expectations.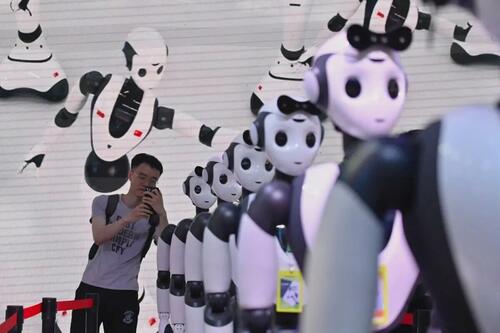 There seems to be optimism about the technology among Chinese media.
Lu Hanchen, director of the Gaogong Industry Research Institute, told the state-owned Securities Times that while China is some distance away from producing humanoid robots at scale, that goal isn't far off.
More than 10 Chinese companies this year have revealed innovations related to humanoid robots, he noted, adding that China already has some supporting facilities from developing industrial robots.
Beijing has set aside about 10 billion yuan (about $1.4 billion) to fund the robotic development. On Nov. 6, China opened the first provincial-level innovation center on humanoid robots in the country's capital to work on solving pressing "key common problems," including an operation control system, open source software, and robot prototypes.
At least one Chinese company, Jiangsu Miracle Logistics System Engineering Co., has promised to introduce its first humanoid robot by the end of the year. Chinese securities brokerage firm Zheshang Securities estimates that the humanoid robot market will have a demand for 1.77 million machines by 2030.
Loading...