---
Xi Greets 'Old Friend' Bill Gates Amid Simmering US-China Tensions
Co-founder of Microsoft Bill Gates traveled to China this week and met with Chinese President Xi Jinping. It was the American tech billionaire's first trip to China since the start of the Covid-19 pandemic, with his prior visit being in 2019, and is against a backdrop of simmering US-China tensions.
It also comes soon after Elon Musk's visited earlier this month. Gates had previewed that the meeting would focus on global health and development challenges. Subsequently after the Friday meeting's conclusion, Bloomberg has cited Chinese state media to report, "China is willing to engage in extensive cooperation on technology and innovation with other countries, People's Daily reports, citing Chinese President Xi Jinping during a meeting with Bill Gates in Beijing on Friday."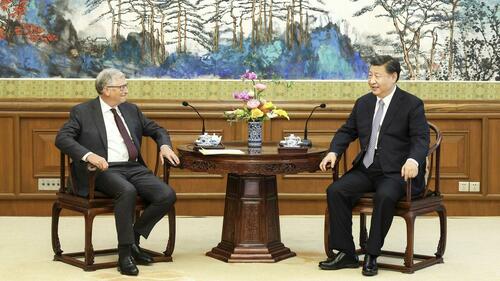 Cooperation on tech might be among the very few final areas the geopolitical rival powers can find common ground on.
President Xi greeted Gates on Friday by saying, "I am very happy to see you. We haven't seen each other for more than three years … and you are an old friend of ours. He noted, "You are the first American friend I've met in Beijing this year."
"As the world is emerging from covid, people should move around more, communicate more, and enhance their understanding of each other," the Chinese leader added.
Xi spelled out that China stands ready and willing to engage in "extensive technological innovation cooperation with countries around the world" and "actively participate in and promote the response to global challenges," particularly in the areas of public health and the climate.
A report in American media gave some background on Gates' visit as follows: 
This is not the first time Xi has called on American business leaders to help improve relations between their two countries. In 2021, Xi wrote to Starbucks (SBUX)' former chairman and CEO Howard Schultz, suggesting he help promote bilateral ties, according to Chinese state media.

Gates' meeting with the leader of the world's second largest economy came a day after his family's foundation pledged $50 million toward research in China for drug discovery and treatments of "infectious diseases such as tuberculosis and malaria, which disproportionately affect the world's poorest," according to a statement from the Gates Foundation.
But also what potentially makes the visit awkward in terms of timing is just last week the FT reported that "Microsoft is moving some of its best artificial intelligence researchers from China to Canada in a move that threatens to gut an essential training ground for the Asian country's tech talent."
"Beijing-based Microsoft Research Asia (MSRA) has begun seeking visas to move top AI experts from China's capital to its institute in Vancouver, said four people with knowledge of the plans," the report detailed, as the 'AI wars' and rivalry between China and the US heats up. 
Loading...