---
Companies In The Super-Saturated Chinese EV Market Are Going Public To Avoid Going Bankrupt
The competition in the EV market - especially in China - is starting to become super-saturated. But rather than actually allow the market to consolidate and eliminate some of the smaller players, Chinese EV companies are taking another route to stave off going under: going public.
After all, what better way to put a company that's not meant to survive on life support than to sell shares of it to a public that doesn't know how to read financial statements? 
Hozon New Energy Automobile is the latest name to launch an IPO, Bloomberg points out in a recent article, saying it wants to list in Shanghai next year. WM Motor Technology Co. is also considering a listing, potentially this year. They will join names like Nio, Tesla and Li Auto in competing in the world's largest auto market.
Hozon is trying to capitalize on lower priced vehicles, offering an electric SUV for less than $10,000. The company has already shipped more than 16,000 vehicles. WM Motor is seeking a valuation of about $4.3 billion and is backed by names like Baidu and Tencent. Li Auto is seeking an IPO in the U.S. that could raise up to $1 billion.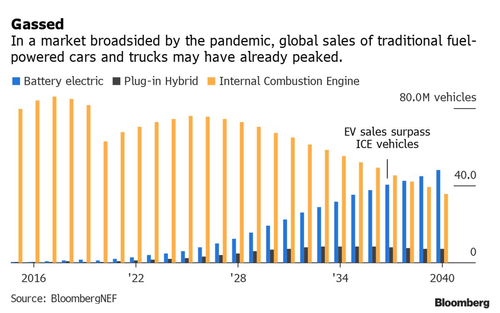 And it has been the public market performance of names like Tesla and Nio that has paved the way for smaller names to go public. Both stocks have more than tripled this year. 
Robert Cowell, an analyst at Shanghai-based private-equity firm 86Research Ltd. told Bloomberg: "The strength in Tesla and NIO shares is creating a window for new EV startups to list. The current conditions provide an attractive opportunity to raise funds, which can help some of these smaller startups sustain the investments necessary to compete effectively."
This has given hope to the dozen or so EV names that have been able to raise money in China. They have emerged from a group of nearly 100 EV startups, all helped along by the government's promise of subsidies for the industry. But its likely that out of the dozen that will make it to the public markets, not even all of those candidates will be successful.
Charley Xu, managing director and partner at Boston Consulting Group in Shanghai concluded: "This industry by nature requires huge investment in product development and manufacturing. Financing from the public market can further boost its development."