---
Demand Hell: Tesla Just Slashed The Price Of Its Brand New Model Y By $3,000
The Tesla Model Y was supposed to be the next big thing for Tesla. But it looks as though things aren't quite turning out exactly as the company had planned (or how Elon Musk suggested they would on conference calls).
For example, remember when Musk claimed they "were not too worried about demand" when discussing the Model Y on Tesla's Q2 2019 earnings conference call? Hint: it was the same call he said that the company would be doing 1.25 million Model Y deliveries per year. 
At this time Musk knew that the Model Y order book was dramatically below the Model 3 at the time of initial Model 3 deliveries.

Zach pointed out the Model Y would be built in geography across the world implying Fremont would likely be building Model Ys only for NA. pic.twitter.com/XLV7auGf45

— JC Oviedo (@JCOviedo6) July 11, 2020
Like many Tesla delusions of grandeur, that idea seems to now be out the window, as Tesla is hurriedly slashing prices on its Model Y in what appears to be a rushed effort to create demand for a vehicle that has gotten nothing short of totally horrifyingly reviews. 
The pro-Tesla lot over at electrek noted that Tesla had slashed the price of its Model Y to under $50,000 in what it calls a "surprise move" and a "significant price drop". We call it a "desperate move".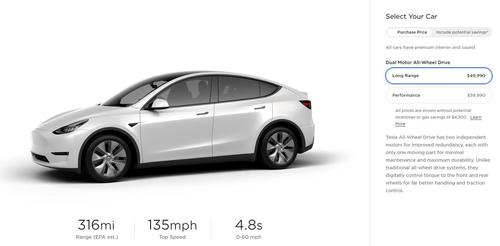 "The automaker didn't explain why it was reducing the price of its new electric SUV today," electrek wrote. 
Let us try to help them along with some theories about why the company may have dropped the price. For example, as electrek was reporting on the price drop, the internet was offering up nearly unlimited reasons to not go out and buy a Model Y. 
Like this panel dragging along the freeway after a bolt fell off...
@elonmusk @Tesla Model Y plastic panel dragged on the freeway bc a bolt fell off. All service centers are closed. What are we supposed to do? Can't drive back up... pic.twitter.com/7Jq134etvk

— Jason Chun (@jasonchun05) July 12, 2020
Or paint peeling off the bumper of a brand new car...
@Tesla service is terrible. paint is peeling off my model y bumper and they refuse to repair because it's outside of the 7-day return window. car has 180 miles on it. pic.twitter.com/oFb7O5eiJl

— Steven Le (@stevenle08) July 9, 2020
Or horrendous looking panel designs...
Dear @elonmusk better do a tour of the factory and review the model Y mfg. process. Your quality control manager is allowing huge defects to get through the build and shipped to customers. I have one on order, is making many of us nervous. Higher a quality person from Toyota pic.twitter.com/1HZVQXVH8i

— A-Rod (@singularity59) July 9, 2020
As word gets out that the Model Y is likely a money pit (if you can even get service for it), more and more demand will likely dry up. Not only could the numbers look ugly for Tesla when they go to report them (assuming they tell the truth), but one astute observer noted that many models and estimates for Tesla would likely have to be adjusted downward if the Model Y turns out to be a full-fledged flop.
Robust Model Y demand is embedded within every sell side model and forms the basis for why the sell side is currently modelling $TSLA's revenues to grow 38% in 2021.

As the Model Y continues to reveal itself to be a giant flop, these estimates will need to be cut materially. pic.twitter.com/lmCEsPwjZE

— JC Oviedo (@JCOviedo6) July 11, 2020
And then there's the non-astute observers...
"Again, this shows why as a consumer you shouldn't buy the early production of a new Tesla vehicle," electrek editor Fred Lambert wrote, as if that is an actual reasonable criticism for any car company that gives half a sh*t about its vehicles. 
"Not only you are likely to have more quality issues early in the production ramp, Tesla has also started a partern of reducing the price after having worked through its backlog of pre-orders and starting to improve cost with higher volume production," he concluded.
Hey, Fred, we've got some real estate in Alaska we'd like to sell you. It's totally useless and unlivable but we've emblazoned it with a Tesla logo and rumor has it that the land was blessed by Elon Musk himself...give us a call.