---
"Elon Getting Smarter": Tesla Foils Autopilot Steering Wheel Hack
Tesla, Inc. appears to have updated software for its vehicles that attempt to detect a small counterweight on the steering wheel that is used to trick the Autopilot system into thinking a driver's hands are on the steering wheel. 
The first evidence of this surfaced on Twitter in December. A person tweeted a screenshot of a warning from a Tesla vehicle that read: 
"Hands-on defeat device detected. Remove defeat device from steering wheel." 
Here's the warning.
From my friend that just texted me …

My buddy just got a beta strike for using a counterweight 😂

Elon is getting smarter@Tesla @elonmusk pic.twitter.com/YE25MRcx6s

— TeslaChillMode #HellaTeslas (@TeslaChillMode) December 23, 2022
People commenting on the tweet were perplexed about how Tesla could detect such a small device to create the impression that the driver is keeping their hands on the wheel. 
Can still find these devices on eBay.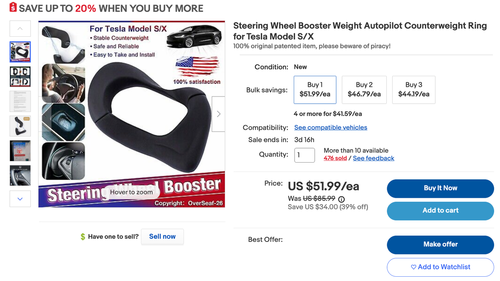 Someone claimed:
"The new updates are trying to detect it. Just keep some tension on the bottom of the steering wheel with your leg, so it's not a steady force from the weight." 
In 2018, the National Highway Traffic Safety Administration (NHTSA) issued a cease and desist order to one manufacturer of the counterweight, though we've seen people able to purchase the devices easily on eBay and Amazon over the last few years -- many of the times, the seller brands the device under a different type of product. 
"A product intended to circumvent motor vehicle safety and driver attentiveness is unacceptable," NHTSA deputy administrator Heidi King wrote in a statement in 2018. 
The warning from Telsa is the first of its kind we've seen. And there's no telling how many Autopilot crashes were attributed to this small device. 
Tesla technicians also told us that they would seize these devices if found during a service appointment. 
Loading...