---
Elon Musk Just Tweeted A Meme About His "Huge Cock"
We can't say we didn't already know corporate governance at Tesla was a dumpster fire, but it was nice of CEO Elon Musk to offer up further proof of concept on Monday, when - days after another one of his Starships exploded and the company announced a halt to both Model X and Model S production - Musk took his very large brain to Twitter to tweet a meme about his "huge cock". 
While his minions were working away producing cars, Musk spent some time on Twitter late Sunday night into Monday morning chatting about a new videogame called "Cyberpunk 2077" that features him and Keanu Reeves. The game has been receiving terrible reviews and numerous requests for refunds, prompting Musk to involve himself in an online debate about it on Twitter. Posting a shot of a character creation-style screen, one random Twitter user asked Musk "what dick size?" - a crude comment from a nobody that shouldn't have prompted a response.
But that's exactly what it did. Musk then Tweeted out an image of a person with a sore lower back and a caption that said: "My back after carrying my huge cock all day".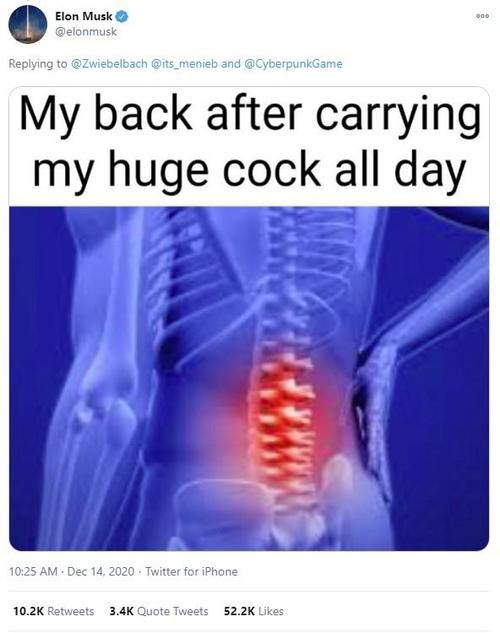 Despite the fact that this isn't exactly what one hopes for from the CEO of a $600 billion company that has just made its way into the S&P 500 index, someone should remind Musk that Tesla has also dealt with at least one notable sexual harassment allegation in 2017 where a worker was reportedly forced out of the company after alleging harassment. That worker had alleged "unwelcome and pervasive harassment by men on the factory floor including but not limited to inappropriate language, whistling, and catcalls".
It's easy to see how Musk's behavior could be setting the tone for the rest of his staff. But, to be fair to Elon, the lawsuit didn't say anything about cock memes in specific. 
And believe it or not, this isn't the first time Musk's genitals made it into the news flow this year. Earlier in 2020, Musk tweeted an obscene statement to the SEC. In July, Musk may have asked the SEC to "suck Elon's cock" when he Tweeted out: "SEC, three letter acronym, middle world is Elon's". 

Just more rock solid tone at the top from America's number one visionary. What a saga...