---
Endurance Of Electric Vehicles Falters In Extreme Heat
Electric vehicles are known to perform sub-optimally in cold weather -- if that's a loss of range and power. A new study has found similar adverse effects when EVs are subjected to scorching temperatures. 
Auto blog Carscoops first reported that data science company Recurrent tested several EVs to "analyze the relationship between batteries and their range." Recurrent's data found that if temperatures rise over 100 degrees Fahrenheit, then the ranges of EVs diminish. 
Recurrent did not mention which EVs were most impacted when temperatures climbed but said some vehicles experienced a 31% decline in range when temperatures exceeded 100 degrees Fahrenheit. The data is to be taken lightly as more testing needs to be completed, Carscoops said. 
"Note that the range loss at 100 degrees is based on extremely limited data, and we will update it when we have more confidence in the value." 
Recurrent CEO Scott Case told Automotive News that collecting data on EVs is challenging because so many drivers commute during the morning rush hour when temperatures are just creeping up from lows. Trip digits are usually reached in the mid-afternoon.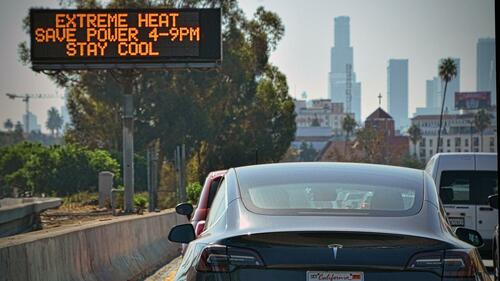 Greg Less from the University of Michigan Battery Lab explained the triple-digit range depletion of the battery occurs when temperatures are "above [104 degrees Fahrenheit] you start to have a breakdown of the passive emission layer on the anode, and that breakdown will then cause consumption of the liquid electrolyte, which will shorten the lifetime of your battery."  
In December, Recurrent found cold weather decreased the Model 3 Long Range's range by 17%, the Model S P100D by 19%, and Model X 75D by 15%. Out of all EVs tested, Tesla wasn't the worst.
The worst declines include Chevy Bolt by 32%, Ford Mustang Mach-E Premium AWD by 30%, and VW ID.4 by 30%. And one of the best EVs to survive cold weather was surprising the Jaguar i-Pace, which only lost 3% of range. Also, the Audi e-Tron was -8%.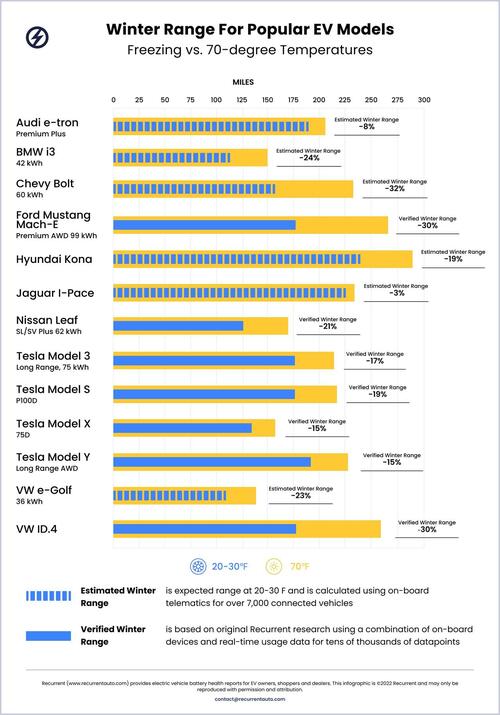 Regardless of the extreme temperature, EVs experience some degree of range loss and power. The push for EVs by the Biden administration comes as climate warriors say these vehicles are the 'green' solution to combat climate change. However, these cars appear not to be holding up well in volatile weather. 
Loading...