---
Epidemic Of E-Bike Fires Rips Across America
According to New York City officials, a supermarket and apartment building were destroyed on Sunday due to a fire caused by an electric bike. The rise in reports of lithium-ion battery fires across the metro area is an unintended consequence of the 'green' mobility trend.
WSJ reported the New York City Fire Department revealed the number of e-bike lithium-ion battery fires had more than doubled last year to 216. The fire department said the blazes had injured 40 people and killed two this year.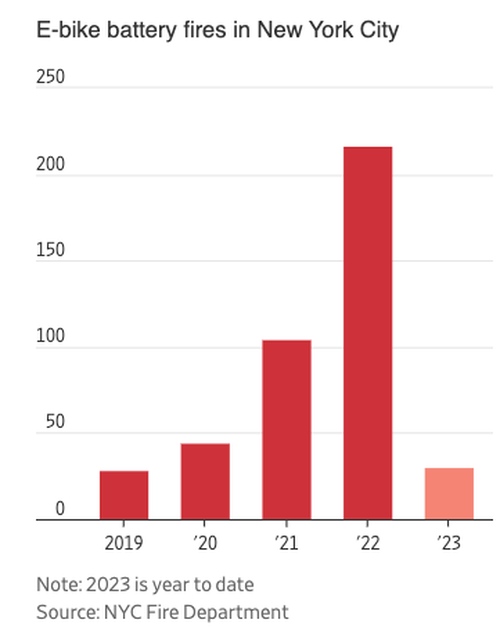 "These are incredibly dangerous devices if they are unregulated or used improperly," New York Fire Commissioner Laura Kavanagh recently told reporters.  
The latest fire on Sunday was when an e-bike triggered a five-alarm fire in the Bronx. New York ABC affiliate WABC-TV reported the fire destroyed a supermarket and apartment building. 
"There is nothing left and it is all because of this one single bike," Kavanagh said on Sunday, adding the fire was so intense that five firefighters, one emergency medical services official, and a resident of the building were hurt during the incident. 

"There is extraordinary damage. This entire building behind me is completely destroyed," she said, adding, "And so we really want to emphasize to the public, how much damage can be done by a single bike, but I think that this shows how really dangerous this is to our members; to the public."
New York City officials said battery fires are happening metrowide. They have pushed for regulating lithium-ion batteries used in e-bikes and scooters. 
Shocking footage shows e-bike burst into flames in devastating NYC fire https://t.co/MYpKffkqV8 pic.twitter.com/zFK3gTT9go

— New York Post (@nypost) March 6, 2023
In 2022, the US imported 1.1 million e-bikes, up from 880,000 in 2021 and 450,000 the previous year, according to the Light Electric Vehicle Association. 
Climate alarmist media outlets have guilt-tripped the American people into purchasing these dangerous devices that could spontaneously explode at any time. 


Apart from New York City, these fires are occurring throughout the country. Bloomberg data shows news stories about "e-bike fires" in US news have exploded over the last 12 months.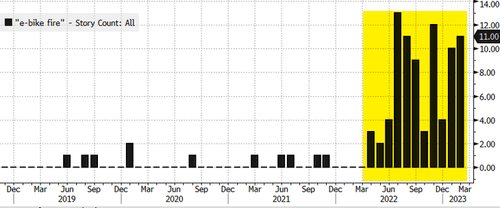 Climate alarmists pushing for the electrification of everything to combat global warming must be transparent about the risks associated with lithium-ion batteries.
Loading...