---
"Extremely Dangerous" -  FitBit Recalls 1.7 Million Smartwatches That Can Burn User 
Google-owned Fitbit announced a voluntary recall of 1.7 million smartwatches that may overheat due to the lithium-ion battery inside and burn the user. 
The recall is for the discontinued Fitbit Ionic Smartwatch (introduced in 2017 and stopped producing in 2020) that according to US Consumer Product Safety Commission (CPSC), "the lithium-ion battery in the Ionic smartwatch can overheat, posing a burn hazard." 
Fitbit sold about a million Ionic Smartwatches in the U.S. and another 693,000 internationally. The company is offering "a refund to Fitbit Ionic customers." 
"The health and safety of Fitbit users is our highest priority. We are taking this action out of an abundance of caution for our users," the company said in a statement.
CPSC said there have been "at least 115 reports in the United States (and 59 reports internationally) of the battery in the watch overheating with 78 reports of burn injuries in the United States including two reports of third-degree burns and four reports of second-degree burns (and 40 reports of burn injuries internationally)."
A few years ago, the Daily Mail reported a man suffered "third-degree burns" on his wrist when his Fitbit watched "burned up" while he was asleep.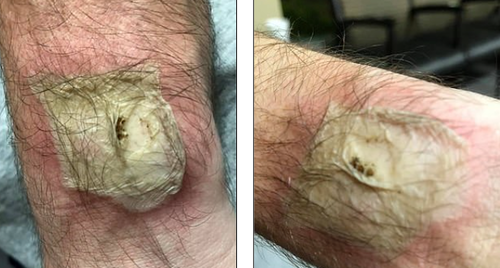 Someone today posted an alleged FitBit fire that engulfed part of their bedroom. 
Just heard about the @fitbit recall. Will they take THIS back? This is what my #fitbit Blaze did to my bedroom. These things are no joke. If my bedroom door was open the whole house would have caught fire. Extremely dangerous. pic.twitter.com/c8HM31IONV

— Julia Moroney (@juliamoroney) March 2, 2022
These smartwatches seem extremely dangerous.