---
FAA Grants FOIA Request To College Kid Who Tracks Elon Musk's Private Jet
The college kid who created a proprietary Twitter bot that tracks Elon Musk's private jet announced an FAA FOIA request "went through" and now can track three SpaceX jets. 

19-year-old Jack Sweeney, the mad genius behind the Twitter account "Elon Musk's Jet," announced early Saturday morning that his "FAA FOIA request went thru, Now I have all the registration and airworthiness documents for all the SpaceX jets." 
My FAA FOIA request went thru, Now I have all the registration and airworthiness documents for all the SpaceX jets. https://t.co/znXWAqCQ9T

— Jack Sweeney (@JxckSweeney) February 5, 2022
Elon Musk's Jet uses public flight data to track not just Musk's private jet but two others. Sweeney uploaded registration and airworthiness documents of three SpaceX jets (including Musk's Gulfstream G650 and two other Gulfstream G550s).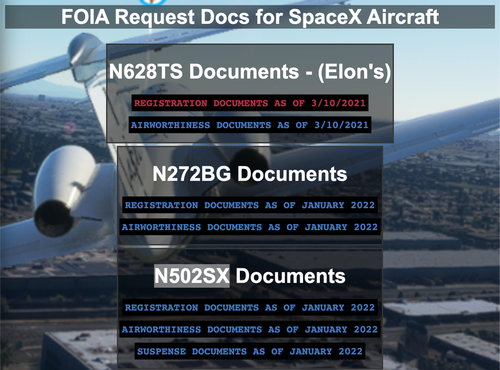 Days ago, Musk blocked Sweeney on Twitter after the billionaire became annoyed that Elon Musk's Jet account has hundreds of thousands of followers tracking his location. 
Musk offered the kid a lousy $5k to delete the account last month. Sweeney responded to the billionaire and asked for $50k or a Tesla Model 3. Musk didn't comply and told him that he was concerned about "crazy people" tracking his location. 
Tracking corporate jets of dealmakers is nothing new. Quandl, a flight monitoring company that sells flight data, uncovered a Warren Buffett deal before it happened after a big shot in the oil and gas industry flew to Omaha, Nebraska. 
As we've said numerous times, Sweeney should offload his bots to hedge funds before Musk finds a way to nuke the account. 
"Elon might not be interested in my offer, but I'm sure hedge funds that already use flight data to track corporate execs will find my flight tracking software one of the best out there. It's because I'm working with the most extensive open network ADS-B Exchange which is practically the best coverage for flight tracking that doesn't block any corporate execs.

We all know FlightAware and FlightRadar24, but they censor many flights of corporate execs. My software doesn't. The rapid increase in Twitter followers proves hundreds of thousands of people who want this data," Sweeney told us. 
A question we have for Sweeney: What's your endgame? Instead of asking for a Model 3, shoot for the stars and ask for a Plaid.