---
FTC Says "Facebook Repeatedly Violated Its Privacy Promises," Puts "Young Users At Risk"
Meta, the parent company of the Facebook platform, has failed to comply with the Federal Trade Commission's 2020 privacy order that bars the social media company from profiting off data it collects from young users. Shares of Meta slid as much as 2% on the news. 
"Facebook has repeatedly violated its privacy promises," said Samuel Levine, Director of the FTC's Bureau of Consumer Protection. He said Meta's "recklessness has put young users at risk, and Facebook needs to answer for its failures."
As part of the proposed changes, Meta, which changed its name from Facebook in 2021, would be prohibited from profiting from data it collects, including through its virtual reality products, from users under the age of 18. It would also be subject to other expanded limitations, including in its use of facial recognition technology, and required to provide additional protections for users.
Wednesday's action by the FTC signifies an unwelcome reemergence of controversy for Meta and its platforms, Facebook and Instagram. Following previous FTC investigations into its privacy practices, the company paid a $5 billion civil penalty in 2019. 
This marks the third time the FTC has pursued action against Meta for allegedly failing to protect users' privacy. The agency explains the timeline of events:
The Commission first filed a complaint against Facebook in 2011, and secured an order in 2012 barring the company from misrepresenting its privacy practices. But according to a subsequent complaint filed by the Commission, Facebook violated the first FTC order within months of it being finalized – engaging in misrepresentations that helped fuel the Cambridge Analytica scandal. In 2019, Facebook agreed to a second order—which took effect in 2020—resolving claims that it violated the FTC's first order. Today's action alleges that Facebook has violated the 2020 order, as well as the Children's Online Privacy Protection Act Rule (COPPA Rule).
Shares of Meta slid 2% on the news but have rebounded since...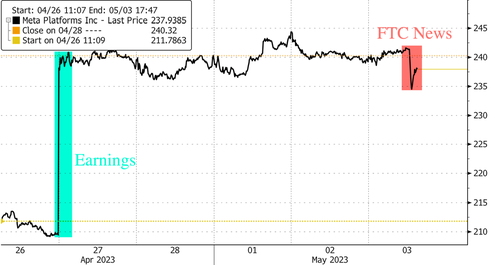 The FTC requested that Meta respond to its proposed findings within 30 days. 
Meta's spokesperson responds... 
Meta's statement on the FTC's political stunt. pic.twitter.com/XEPHvriKFY

— Andy Stone (@andymstone) May 3, 2023
... and calls FTC's move a "political stunt."  
Loading...