---
Giant 3D-Printed Rocket Fails To Reach Orbit
A mostly 3D-printed rocket, measuring 110 feet high, blasted off from Cape Canaveral, Florida, on Wednesday night and encountered a mid-flight problem preventing it from reaching orbit.
Launch startup Relativity Space Inc.'s Terran 1 is the first of its kind with an 85% 3D-printed structure. A live stream of the launch showed the two-stage rocket failed to ignite its upper-stage engine that would've propelled the rocket into orbit.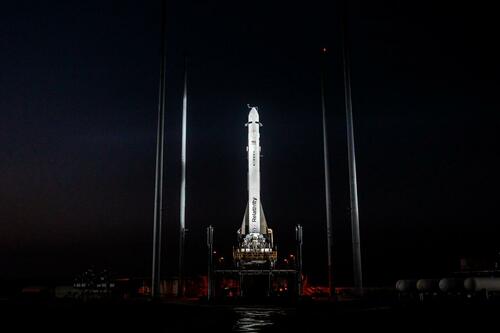 Relativity launch director Clay Walker confirmed an "anomaly" occurred with the rocket's upper-stage engine. He said more information would be provided "over the coming days" about the Terran 1's problems after his team reviews flight data. 
The upper stage engine on Relativity Space's Terran 1 rocket appeared to sputter shortly after ignition on tonight's test flight

The company confirmed an anomaly with the upper stage, and the Terran 1 will not reach orbit on its first-ever launchhttps://t.co/5SAWJ1O3G3 pic.twitter.com/SJiMpYQmOZ

— Spaceflight Now (@SpaceflightNow) March 23, 2023
"There were no satellites on the Terran 1 rocket's first test flight. Debris from the rocket likely fell into the Atlantic Ocean around 400 miles east of Cape Canaveral," rocket news website Spaceflight Now said. 
Even though the fight test was a failure, the company tweeted:
Today's launch proved Relativity's 3D-printed rocket technologies that will enable our next vehicle, Terran R. We successfully made it through Max-Q, the highest stress state on our printed structures. This is the biggest proof point for our novel additive manufacturing approach.… pic.twitter.com/9iaFVwYoqe

— Relativity Space (@relativityspace) March 23, 2023
What's unique about Relativity's mission is that it wants to send the first 3D-printed commercial rocket into orbit. The Terran 1 is about 85% 3D-printed, though it expects future rockets will be about 95%. 
If Relativity's space venture works out, the Terran 1's payload will be about 1,250 kilograms (2,755 pounds), designating it as a "medium lift" rocket of the US launch market. 
Loading...