---
Hyundai Buys $900MM Stake In Robot-Dog Maker Boston Robotics
Now that SoftBank has unwound the options-trading strategy that earned it the nickname "the Nasdaq Whale", the Japanese telecom-VC hybrid is resorting to unloading pieces of its portfolio to try and generate badly needed liquidity.
Reuters reports that SoftBank is unloading Boston Dynamics, the robotics company known for its terrifying "robot dog". "Spot", the autonomous robot dog, recently made headlines for building a radiation map of Chernobyl.
Hyundai Motor Group, the South Korean carmaker, has agreed to take an 80% stake in BD. The deal values the robotmaker at $1.1 billion (which means Hyundai paid some $880 million for its stake).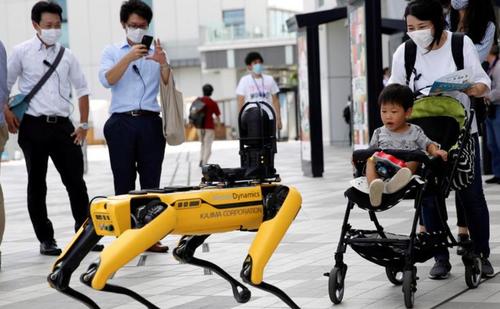 Any readers who are wondering why a carmaker might want to buy a fledgling robotics company, the answer lies in Hyundai Motor Group chairman Euisun Chung's pledge to reduce reliance on traditional car manufacturing. To accomplish this, the company is exploring methods to streamline its plant operations, cutting reliance on human workers and the pesky unions who represent them.
BD has already signed up carmakers, including Ford, which has leased two Spot robots in July as part of a pilot program. Though details weren't clear, we suspect Ford, like Hyundai, is simply trying to save money on manufacturing and labor. Ideally, the South Koreans see BD as an opportunity to try and remain competitive with their rising Chinese rivals.
For the deal to bolster Hyundai's share price, Wall Street will be watching to see if Hyundai can not only benefit internally, but also derive profits from leasing BD's technology to rivals, like BD has been doing with Ford.
"Hyundai needs to prove that Boston Dynamics can be commercially successful and is capable of competing with cheaper Chinese rivals," said Koh Tae-bong, an analyst at Hi Investment & Securities.
The deal is also notable for signaling SoftBank's withdrawal from the robotics business, something that Chairman Masayoshi Son once heralded as a critical component of SoftBank's growth strategy. SoftBank owns stakes in - or owns outright - more than 100 companies.
Reuters reported that SoftBank's "rump" robotics business is now looking "increasingly isolated." Amazon infamously bought Kiva Systems and transformed it into "Amazon Robotics". It has since integrated the technology into its warehouses, forming the bedrock of its reputation for ruthless efficiency.
Somewhere, some union leaders in Seoul, Detroit and elsewhere are taking notice of this news with a sharp sense of foreboding.