---
"Lawsuit Time": Elon Musk Threatens To Sue Microsoft Over 'Illegal Use' Of Twitter Data
Authored by Katabella Roberts via The Epoch Times (emphasis ours),
Twitter CEO Elon Musk has threatened to sue Microsoft after accusing the tech giant of illegally using the social media platform's data for training.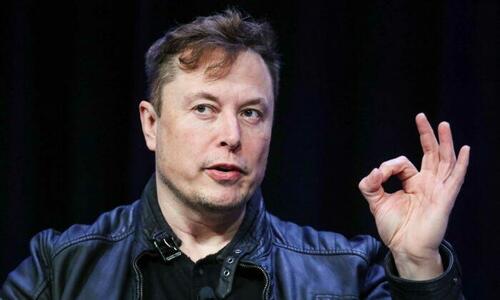 "They trained illegally using Twitter data. Lawsuit time," Musk wrote on Twitter on April 19, without providing further details regarding the allegations.
They trained illegally using Twitter data. Lawsuit time.

— Elon Musk (@elonmusk) April 19, 2023
His tweet came shortly after Microsoft announced it is removing Twitter from one of its advertising platforms. According to Microsoft's official website, starting on April 25, Smart Campaigns with Multi-platform will no longer support Twitter.
As of April 25, 2023, advertising clients will no longer be able to, "access your Twitter account through our social management tool, create and manage drafts or Tweets, view past Tweets and engagement, schedule Tweets," the website states.
The company stopped short of providing further details as to why it has dropped Twitter from its advertising platform but noted that other social media channels such as Facebook, Instagram, and LinkedIn will continue to be available to clients.
However, multiple media publications report that Twitter's Application Programming Interfaces (API) fees may have been at the center of the decision.
Changes to API
Twitter's API provides third-party companies, developers, and users with programmatic access to Twitter data and features, allowing them to create automatic tweets, search for specific hashtags and receive Twitter engagement data and regulate retweets or responses.
"At a high level, APIs are the way computer programs 'talk' to each other so that they can request and deliver information," Twitter states. Put simply, API provides solutions to companies or developers, allowing them to respond to customer feedback on Twitter, analyze conversations taking place on the platform and send out updates.
The software intermediary is also a valuable source for academics, according to Wired, which reports that there have been more than 17,500 academic papers based on the platform's data since 2020.
Prior to Musk's takeover of the company, Twitter had offered the program for free. However, in March, the official Twitter Developer account announced that the free version of the program will now only allow developers to write 1,500 tweets per month and they will no longer be able to access tweets, only create them.
Instead, a brand new set of API plans for developers was rolled out with greater access to various functions, with the highest tiers costing $210,000 a month, according to Mashable.
Musk 'Open to Ideas' for API
Responding to Musk's tweet on Wednesday, journalist Brian Krassenstein asked if the businessman has a "long-term plan" regarding the API.
Read more here...
Loading...