---
Meet The Competing Apps Battling For Twitter's Market Share
The Twitterverse is under siege as a flurry of microblogging platforms, keen to capitalize on simmering discontent, vie for its vast user base.
As Visual Capitalist's Nick Routley summarizes below, among the most serious contenders are five apps offering diverse solutions, each with their unique appeal.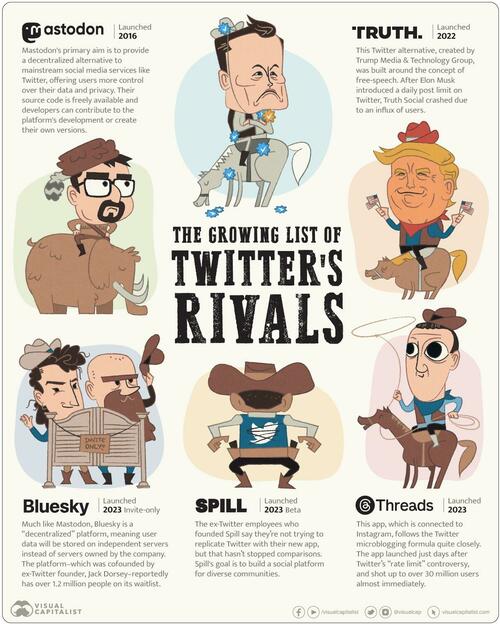 Five Twitter Alternatives
At the top of the list is Meta's Threads, a fresh entrant that leverages the success and massive userbase of Instagram. Launched hot on the heels of Twitter's controversial 'rate limit' decision in June 2023, Threads emulates Twitter's microblogging approach with an Instagram twist. The new kid on the block swiftly amassed over 30 million users on its launch day, posing a credible threat to Twitter's dominance.

Meanwhile, the decentralized platform Mastodon, which has been running since 2016, continues to challenge the status quo. Its open-source model enables user control over data and privacy, providing an alternative to mainstream social media monopolies. Mastodon saw a big surge in users last year as Elon Musk took control of Twitter—a move that was wildly unpopular with a subset of users.

Another decentralized contender is BlueSky, a brainchild of Twitter co-founder Jack Dorsey. Still in its nascent 'invite-only' stage, BlueSky already has a whopping 1.2 million potential users on its waitlist, a testament to its potential to disrupt the social media landscape.

Spill, co-founded by former Twitter employees, is also shaking things up. The platform aims to foster diverse communities rather than mimic Twitter, but the similarities are hard to overlook. Impressively, even though Spill is still invite-only, it has become one of the most downloaded apps on Apple's App Store.

Lastly, there's Truth Social, a product of Trump Media & Technology Group. It bills itself as a bastion of free speech. In the aftermath of Twitter's introduction of a daily post limit by Elon Musk, Truth Social's servers were overwhelmed by an influx of users seeking an unrestricted social media experience.
As these platforms fight for Twitter's turf, only time will tell who'll come out on top.
Twitter's rule remains challenged, but the battle for social media supremacy is far from over.
Loading...