---
Meta's Threads 'Bombs' As Daily Active Users Halved
The hype surrounding "Threads," the new social network launched by Meta CEO Mark Zuckerberg, has collapsed. Threads has unraveled so quickly that new data shows active users have been halved. 
Threads launched in the US on July 5 and reached over 100 million sign-ups by that weekend. Shortly after, Zuckerberg wrote in a post, "Can't believe it's only been five days!" 
Zuckerberg appears to have prematurely taken a victory lap because early last week, we noted data from SensorTower and SimilarWeb showing an exodus of users and a plunge in engagements. The note was titled Threads Unravels: So-Called 'Twitter Killer' App Sees Exodus Of Users, Plunge In Engagement.
New data from SimilarWeb shows the exodus has worsened. As of last Friday, daily active users on the app collapsed from 49 million to 23.6 million in a week. Usage in the US peaked on July 7 at about 21 minutes of engagement. By Friday, that number plunged to just six minutes. 
Threads Usage Drops By Half From Initial Surge

At this rate it will need a bailout from the CIAhttps://t.co/BYHzedMijl

— zerohedge (@zerohedge) July 19, 2023
SimilarWeb said the app lacks basic features that "offer a compelling reason to switch from Twitter or start a new social media habit." Also, some users found Threads has been dominated by censorship. 
Threads briefly captured a big chunk of Twitter's market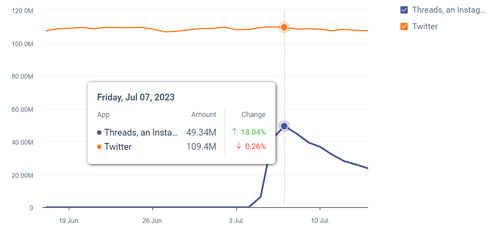 Threads' total daily minutes of use has collapsed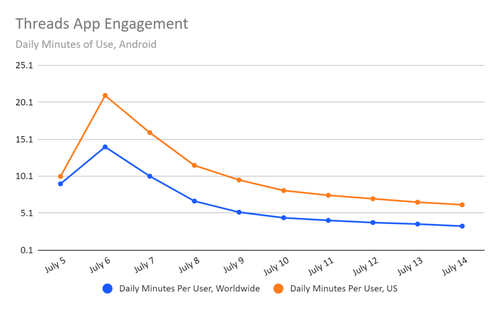 All the hype around Threads was driven mainly by corporate media, such as The New York Times, which penned a piece titled "Threads, Instagram's 'Twitter Killer,' Has Arrived." Federal-funded NPR News wrote, "Is Threads really a 'Twitter killer'? Here's what we know so far." And here's a CBS News article titled "Meta's "Twitter killer" app Threads is here – and you can get a cheat code to download it."  
Notice the concerted effort by legacy media to bash Elon Musk's free-speech Twitter?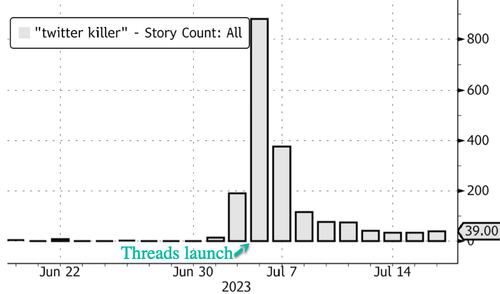 Threads is unraveling, but it seems like a better venture for Zuckerberg than his disastrous VR bet. 
Loading...