---
Musk Folds Twitter Into "X Corp" , Fueling Speculation Over 'Everything App'
While there's been no official announcement, Twitter owner Elon Musk has folded the social media giant into a newly formed shell company called "X Corp," fueling speculation that he's going to integrate his $44 billion acquisition into an "everything app" that could - similar to China's WeChat, include everything from payment processing, to booking events, to messaging.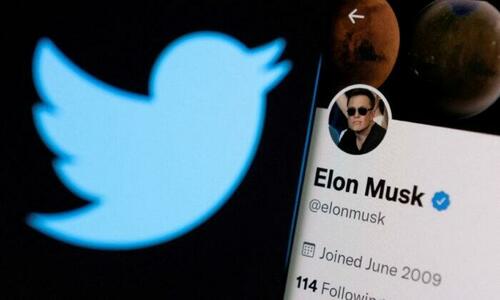 Early Tuesday morning, Musk tweeted "X" - in what Bloomberg assumed was a direct reference to the move.
X

— Elon Musk (@elonmusk) April 11, 2023
According to an April 4 filing in a lawsuit filed against the company and former CEO Jack Dorsey by conservative activist Laura Loomer, Twitter "no longer exists" after being merged with X Corp.
It's unclear what the change means for Twitter, which has seen a sweeping overhaul since Musk bought the company for $44 billion last year. The billionaire owner has in the past suggested that buying Twitter would be an "accelerant" for creating X — which he dubbed an "everything app." Musk tweeted about the move Tuesday with the single character "X".

The world's second-richest man has professed his desire to make X similar to China's WeChat, a super-app owned by Tencent Holdings Ltd. used for everything from payments and booking event tickets to messaging. But he's been vague about how it will fit in with his sprawling business empire, ranging from the electric car giant Tesla Inc. to Space Exploration Technologies Corp. Musk also owns the domain "X.com" — the name of the online payments company he started and eventually merged with PayPal. -Bloomberg
Last April Musk set up a trio of Delaware holding companies with variations on the name "X Holdings" in conjunction with his takeover bid of Twitter. "X Corp," however, was set up on March 9 in Nevada, while its merger with Twitter was submitted on March 15, according to state filing records.
Musk sits atop X Holdings Company, the parent of X Corp which was set up last month and has an authorized capital of $2 million, according to the report.
Is inevitable https://t.co/lDL5KnrHS2

— ALX 🇺🇸 (@alx) April 11, 2023
Perhaps the above explains Musk's decision last week to throttle links to Substack, the self-publishing platform which launched a Twitter competitor - Substack Notes, which allows writers to produce short posts resembling tweets.
Over the weekend, Twitter reversed the decision - allowing users to click substack links without a warning message, however search queries for Substack posts show up as blank.
This isn't the first time Musk has acted to defend Twitter's model. Last year, he suspended accounts for rival Mastadon, and blocked tweets linking to its service after several users tweeted about a Twitter account which was using public information to track Musk's private jet, Axios reports.
Loading...