---
NASA Unveils Next-Gen Spacesuit For Upcoming Moon Mission
NASA and the Houston-based aerospace company Axiom Space revealed next-generation spacesuits that astronauts would wear on the Artemis III moon mission. 
Compared to the inflexible Apollo suits that astronauts were equipped with over 50 years, the new suits are designed to be more flexible, said Russell Ralston, deputy program manager at Axiom Space.
"Axiom Space's Artemis III spacesuit will be ready to meet the complex challenges of the lunar south pole and help grow our understanding of the Moon in order to enable a long-term presence there," Michael T. Suffredini, Axiom Space president and CEO, wrote in a press release. 
The new Axiom Extravehicular Mobility Unit (AxEMU) spacesuit was on full display at Space Center Houston's Moon 2 Mars Festival on Wednesday. A "full fleet" of training spacesuits will be delivered to NASA by late this summer. 
Axiom Space just unveiled a prototype of the spacesuit NASA astronauts will wear when walking on the #moon. pic.twitter.com/Dg6pzOnTEi

— Andrea Leinfelder (@a_leinfelder) March 15, 2023
Here's a better view of the spacesuit.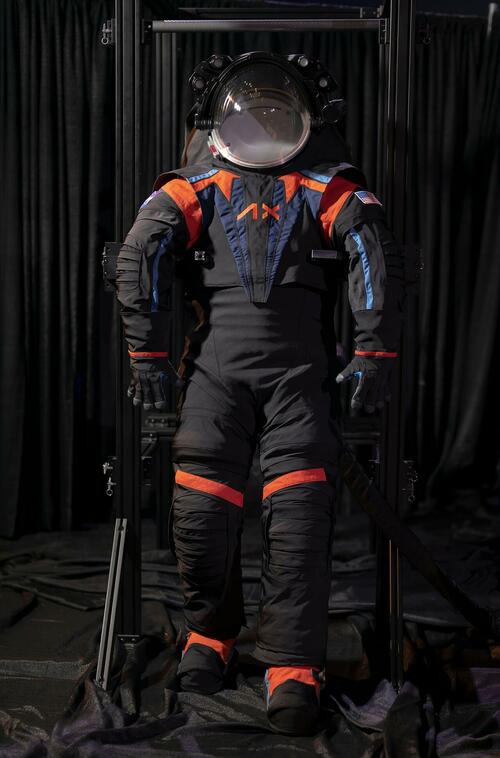 The moon mission is slated for launch from Kennedy Space Center in Florida atop the Space Launch System in 2025 with four astronauts. And, of course, NASA went 'woke' by recently saying the "crew will be selected from among the most diverse astronaut in history." 
Loading...