---
NASA's Mars Helicopter To Push Limits On Fourth Flight 
Update (1456ET): NASA's Jet Propulsion Laboratory in Pasadena, California, has just tweeted the fourth flight of the Mars helicopter Ingenuity "didn't get off the ground." There was no mention of what went wrong. 
Aim high, and fly, fly again. The #MarsHelicopter's ambitious fourth flight didn't get off the ground, but the team is assessing the data and will aim to try again soon. We'll keep you posted. https://t.co/TNCdXWcKWE pic.twitter.com/HDaF0fAILs

— NASA JPL (@NASAJPL) April 29, 2021
* * * 
NASA's Mars helicopter Ingenuity is ready for the boldest flight yet in the skies of Mars, according to NASA's Jet Propulsion Laboratory in Pasadena, California. 
Flight No. 4 is targeted for April 29. 🗓️#MarsHelicopter has met or surpassed all its tech demo goals. Now, we'll push performance. We'll up the time airborne to 117 seconds, increase max airspeed to 3.5 m/sec (8 mph), & more than double the total range. https://t.co/4s7ujMZZmz pic.twitter.com/DxgB7e04Ni

— NASA JPL (@NASAJPL) April 29, 2021
The 4-pound helicopter will attempt its fourth flight today on the Red Planet. The flight will begin at 1012 ET, and streaming data won't be received by NASA's JPL until 1321 ET. We would assume shortly after, Twitter handle NASA JPL will release images and or videos of the flight.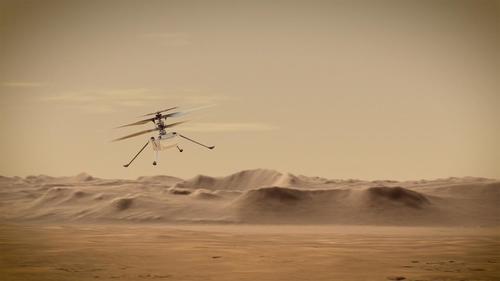 According to the fourth flight plan, Ingenuity is expected to autonomously fly south for 276 feet at an altitude of 16 feet and pass over rocks, impact craters, and sand ripples. "As it flies, the rotorcraft will use its downward-looking navigation camera to collect images of the surface every 4 feet (1.2 meters) from that point until it travels a total of 436 feet (133 meters) downrange. Then, Ingenuity will go into a hover and take images with its color camera before heading back to Wright Brothers Field," NASA's JPL said. 
"To achieve the distance necessary for this scouting flight, we're going to break our own Mars records set during flight three," said Mars Helicopter backup pilot Johnny Lam. "We're upping the time airborne from 80 seconds to 117, increasing our max airspeed from 2 meters per second to 3.5 (4.5 mph to 8), and more than doubling our total range."
The Perseverance rover also capture images and video of Ingenuity's flight.
It's no surprise that Ingenuity has garnered so much attention because it's the first aircraft to operate on a different planet.