---
NASA's Marscopter Prepares For Imminent Flight On Red Planet 
On Saturday evening, NASA Jet Propulsion Laboratory tweeted its Mars helicopter "Ingenuity" officially touched down on the Red Planet after being released from the belly of the Perseverance rover. The first helicopter flight on Mars is expected in about a week. 
"#MarsHelicopter touchdown confirmed! Its 293 million mile (471 million km) journey aboard @NASAPersevere ended with the final drop of 4 inches (10 cm) from the rover's belly to the surface of Mars today. Next milestone? Survive the night," NASA Jet Propulsion Laboratory tweeted. 
The helicopter weighs about 4 pounds and is solar-powered. Much of the battery usage is to keep the internal system warm from the harsh Martian night. 
"This heater keeps the interior at about 45 degrees F through the bitter cold of the Martian night, where temperatures can drop to as low as -130 F (minus 90 degrees Celsius)," NASA's Bob Balaram, chief engineer for the Mars Helicopter project, wrote Friday. "That comfortably protects key components such as the battery and some of the sensitive electronics from harm at very cold temperatures."
The $85 million marscopter will be the first helicopter to fly on the Red Planet. Data from Ingenuity's first flight, expected to be on Apr. 11, will be received by NASA on Apr. 12. Ingenuity is embedded with multiple cameras that will soon allow it to observe Jezero Crater (where the Perseverance rover landed on Feb. 18). Each flight will be conducted over a 300-foot-long flight range at a maximum altitude of 16.5 feet.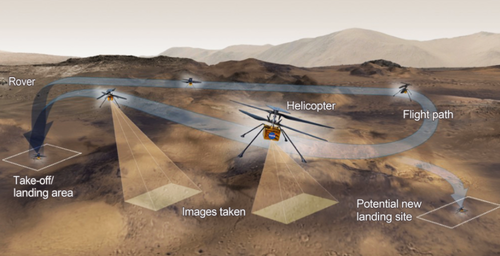 Balaram said after the first flight, "the Ingenuity team will be anxiously waiting to hear from the helicopter the next day." 
While Ingenuity is an exploratory technology demonstration, a successful test flight would confirm the helicopter technology could be scaled up, with larger models that may assist astronauts on the Red Planet with transportation one day.