---
Netflix Shares Soar As Company Capitalizes On COVID-19, Hikes Prices
Just in time for the next round of lockdowns, Netflix is raising prices for its standard and premium plans, sending its shares surging more than 4% during the last hour of the trading day.
The company's share price broke back above $500, which it lost after its disappointing Q3 earnings report earlier this month.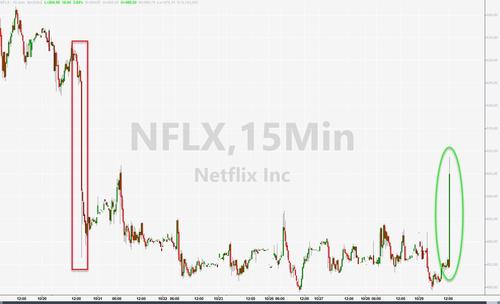 Here's the Verge, which explains how the price hikes will impact Netflix's standard and premium plans. 
The new pricing for the standard plan is a $1 price increase (from $13 a month), while the new premium tier cost is a $2 increase (from $16 a month). New subscribers will have to pay the updated monthly fees, while current subscribers will see the new prices over the next few weeks as they roll out with customer's billing cycles.

Industry insiders have long anticipated another round of price hikes at Netflix, which last increased subscription fees in the United States in January 2019. Recently, Netflix increased the cost of some plans in Canada. Netflix rolls out price changes on a country-by-country basis and the change "in the US does not influence or indicate a global price change," a Netflix spokesperson told The Verge.
The hikes are only for US subscribers, and it comes on the heels of a price hike in Canada. Netflix told the Verge that it rolls out price changes on a country-by-country basis, and this latest hike "in the US does not influence or indicate a global price change."
Higher prices aren't a complete surprise, as one Wall Street analysts said a couple of weeks ago that the price hikes in Canada could portend hikes in the US in the very near future, according to MarketWatch.
"The Canadian price increase supports our view that broader price hikes are probable in the near-term," Jefferies analyst Alex Giaimo said in an Oct. 8 note that reiterated a Buy rating and price target of $570, and estimated that Canada, with about 7 million subscriptions, accounts for 4% of Netflix's user base worldwide . "[Netflix] typically adjusts pricing every 2-3 years."
Netflix wasn't the only stock to move on the news; Disney also moved higher, presumably on the notion that it the price hikes make the price of Disney's 'Disney+' streaming service even more competitive.
To be sure, anybody who is familiar with the company's massive content-related cash burn understands that this price hike was probably inevitable, as growth in paid subscribers starts to slow, how else will Netflix finance a content budget that has grown every year?
Interestingly, as the Verge points out, Netflix's new "standard" price is just $1 less than HBO Max's $15 price point, which Wall Street analysts once complained was too high for a streaming service. By comparison, Disney+ charges $7 a month, or $70 a year.
Finally, the price hike comes as NFLX's users have been spending even more time on the platform thanks to the coronavirus. The company, of course, needs to invest in improving and maintaining its platform, another reason the company couldn't avoid a hike for more longer.