---
New Peloton CEO Dismisses Sales Speculation To Activists' Chagrin
Peloton managed to avoid any embarrassing gaffes during this year's Super Bowl (remember the uproar over its holiday advert from a couple of years back?) but even as the world was bombarded with advertisements about crypto, NFTS and beer, Peloton's new CEO was fielding calls from reporters insisting that there were no plans for Peloton to be put up for sale.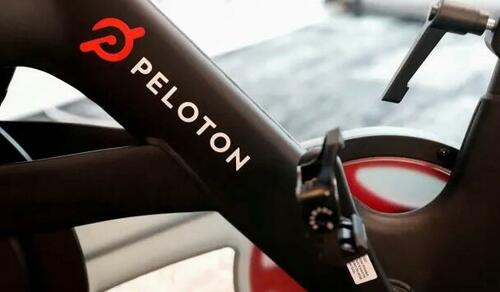 The reports are the latest in the ongoing saga of Peloton, which has seen several interested parties consider bids, including Microsoft and Nike, only for the firm's CEO to dismiss them.
According to the FT, Barry McCarthy - formerly a  CFO of Netflix and Spotify who was appointed Peloton's chief executive last week - told the FT that he was moving from California to New York to seize a long-term growth opportunity, not a sale to an overseas firm.
"If I thought it was likely that the business was going to be acquired in the foreseeable future, I can't imagine it would be a rational act to move across the country," he said. "There are lots of other things I could be doing with my time that are quite lucrative than hanging out with a business that's about to be sold."
He added that it's "not my vote" whether to sell the company or not.
"It's not my vote," McCarthy said. "It is, however, the vote of the shareholders, and I'm confident a large percentage of the votes will be cast in favour of my leadership of the business, which is why I agreed to step into the business in the first place."
At least one major investor is agitating for a sale: Blackwells Capital has urged Peloton to find a buyer and is agitating for it to change up its dual-class voting structure to loosen insiders' grip on the firm. But McCarthy has a few other tricks up his sleeve, including the following, according to the FT.
There's Project Caesar, a connected rower that gives feedback on the user's form. According to photographs and spec details seen by the FT, the rower features the same tablet as Peloton's Bike+ product, operates with magnetic resistance and will feature classes taught by instructors in studios and on the water.
Then there's Project Cobra, which would deliver Peloton's first dedicated strength product. It is designed to rival Tonal, a cable-pulley weight system manufactured by a Peloton competitor. Unlike Tonal, Cobra does not attach to a wall and pairs with a television rather than a touch screen. The product does not appear to be as imminent as the rower.
Peloton shares were off in premarket trading Monday, but it was cutting its losses as the market underwent a reversal Monday morning.