---
New Image Shows Mars Helicopter Completing 5th Flight
Update (2105ET): NASA's Jet Propulsion Laboratory in Pasadena, California, said Ingenuity Mars helicopter "completed its 1st one-way trip and 5th flight on Mars. It touched down at its new location, kicking off a new demo phase where we test this new tech and see how it can aid future missions on Mars and other worlds."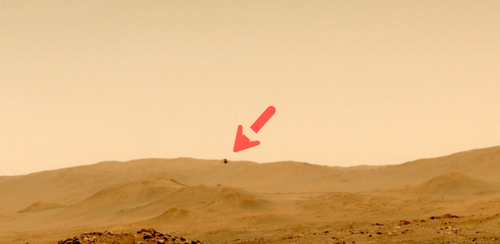 * * * 
NASA's Ingenuity Mars helicopter is preparing to explore a new region of the Red Planet today on its fifth scheduled flight (3:26 p.m. EDT, or 12:26 p.m. PDT), with flight data coming in around 7:31 p.m. EDT (4:31 p.m. PDT). 
Off to new places! The #MarsHelicopter is slated for its fifth flight on May 7, with data coming down at 4:31pm PT (7:31pm ET). The rotorcraft will take off at Wright Brothers Field and will land elsewhere this time, which is another first for Ingenuity. https://t.co/JxLNz7UADw pic.twitter.com/zOGo1j7srt

— NASA JPL (@NASAJPL) May 6, 2021
If all goes well, the 4-pound helicopter will climb 16 feet, then retrace flight four, heading south 423 feet. But instead of heading back to home base, the aircraft will soar to an altitude, a new height record, of 33 feet, where it will take color (as well as black-and-white) photos of the Red Planet. This flight is expected to last about 110 seconds and will be a one-way trip. 
"But instead of turning around and heading back, we'll actually climb to a new height record of 33 feet (10 meters), where we can take some color (as well as black-and-white) images of the area," Josh Ravich, Ingenuity mechanical engineering lead at NASA's Jet Propulsion Laboratory in Southern California, wrote in a blog post Thursday. 

"After a total flight time of about 110 seconds, Ingenuity will land, completing its first one-way trip," Ravich added. "When it touches down at its new location, we will embark on a new demonstration phase — one where we exhibit what this new technology can do to assist other missions down the road."
Ingenuity landed with NASA's Perseverance rover on Feb. 18 and deployed two months later from the belly of the land-based robot. The helicopter has already completed four flights in three weeks and plans more daring flights as an aerial exploration scout. 
More developments will come this evening when NASA Jet Propulsion Laboratory will announce how the flight went on its Twitter account.