---
Pornhub Offers Free Advertising For Small Businesses Crushed By Pandemic
Pornhub issued a press release on Monday, indicating it will provide free advertising space for small businesses affected by the virus-induced economic crash. 
The campaign is called "A BIG PACKAGE," exclusively for small businesses that need "a little stimulation," said the world's largest porn site.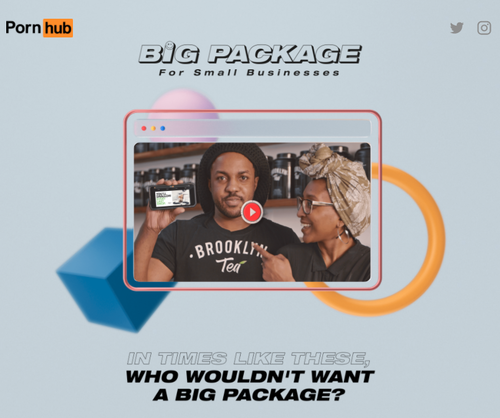 No matter where you are, if yours is small and it needs a little stimulation, we're the experts. That's why, we're giving away free ads on pornhub.com to the tune of 1 billion impressions, exclusively to small businesses everywhere. Because what better place to connect with new customers than a website that receives over 120 million happy visitors a day. - the release states
Pornhub lists only one requirement for small businesses to freely advertise on the site: 
If you own a company with less than 100 employees, you're eligible to apply. Complete the form below, and if you're selected, we'll create a series of customized ads for your business… inspired by ours. So, instead of tightening your belt in this economy, let us help you loosen it. - the release states
The campaign is global, from New York City to Tokyo - Pornhub wants small businesses to advertise on its site for free. Here's a promotional video of "Big Package:" 
During the pandemic lockdowns, Pornhub offered free premium accounts to anyone in the world, an effort to flatten the virus curve, the company said in March.