---
President Trump's Campaign Website Was Just Hacked
Update (2015ET): Trump 2020 Campaign comms director Tim Murtaugh has issued a statement:
"Earlier this evening, the Trump campaign website was defaced and we are working with law enforcement authorities to investigate the source of the attack. There was no exposure to sensitive data because none of it is actually stored on the site. The website has been restored."
*  *  *
In an ironic piece of timing, shortly after US officials issues a warning about a hacking group from North Korea, President Trump's campaign website - www.donaldjtrump.com - was hacked.
The hackers took over the site at around 1920ET and replaced the landing page with the following threat...

The hackers behind the stunt claimed to have compromised multiple of the president's devices, that gave them "full access" to Trump and his relatives, along with access to confidential information.
"Strictly classified information is exposed proving that the Trump gov is involved in the origin of the coronavirus."

"We have evidence that completely discredits mr trump as a president, proving his criminal involvement and cooperation with foreign actors manipulating the 2020 elections. the US citizens have no choice."
We have blurred the crypto addresses (which were Monero, a private cryptocurrency) where readers were supposed to send contributions to unlock the mysterious information that would discredit the president.
While we will be accused of racism, we are sure, we strongly suspect this attackers were foreign given the typos and grammar: "the world has had enough of the fake-news spreaded by president donald j trump."
Shortly after the site was taken down, presumably by Trump campaign officials, but the usual 404-page was not present...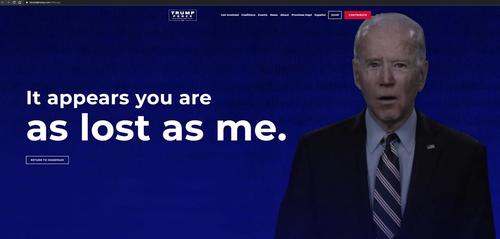 The site is back up and running (as of around 1945ET).