---
Sam's Club To Deploy Robot Cleaners For All US Stores Amid Contactless Shift
Even before the virus pandemic, bulk retailer Sam's Club has been fairly aggressive in adopting robotics and automation at U.S. stores. 
Sam's Club employed a fleet of robotic scrubbers from Tennant Company, a Brain Corp partner, at hundreds of U.S. stores but is now preparing to receive an additional 372 robots that will operate at the company's 599 US locations.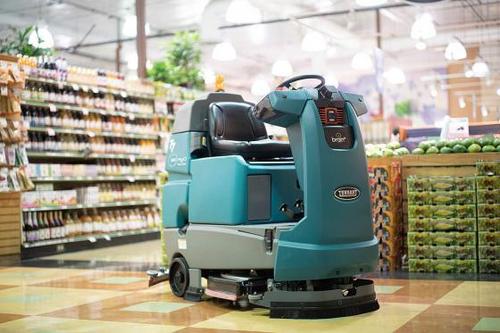 "The potential of robots, A.I., and data working in concert throughout an in-store environment can only be realized by proven, commercial technology," Dr. Eugene Izhikevich, CEO of Brain Corp., wrote in a press release. 
"Sam's Club recognizes the scale of this opportunity, and we are proud to be selected as part of their connected club initiatives," Izhikevich wrote. 
The virus pandemic has accelerated the company's mission to reduce worker contact by supporting an effort to adopt more robotic solutions across stores. 
Walmart, the owner of Sam's Club, is already using robots to perform cleaning and inventory tasks in stores. In 1Q20, the company announced it was adding inventory-checking Bossa Nova robots to an additional 650 locations to bring up to 1,000 in the U.S. It also piloted Brain's cleaning robots at select stores.  
Walmart has also announced sweeping changes to stores, including restructuring leadership roles, redesigned layouts, and increased focus on robotics and automation. 
Walmart stores of the future will be a contactless environment, with layouts similar to airports, a move that will allow it to compete with Amazon. But to do so, the mega-retailer, America's largest employer, will have to reduce labor expenses by shrinking its workforce size. One way to do this is through the adoption of robots.
A robot that makes smoothies was recently showcased at a Walmart in California, this is very suggestive that robots at stores will expand tasks in the near future. The company is also turning to drones for last-mile delivery, another move to eliminate human workers.   
While the addition of robots in Sam's Club and Walmart stores sounds harmless, hundreds if not thousands of workers from these stores could soon be displaced by robots in the coming years. 
The next problem is what to do with all the people laid off, not just due to the virus pandemic that has crushed the economy and decimated SMEs, but there will be a steady adoption of robotics and automation into the workplace that will result in millions of job losses by 2030. 
It's no secret, and we know the federal government's response to all of this job loss. As President Trump shows, it doesn't matter, Republicans or Democrats, both parties are becoming increasingly fans of universal basic income. Just remember, Trump checks were a trial run for People's Q.E. and suggests more of that is coming.