---
Elon Musk Asks College Kid To Remove Twitter-Bot Tracking Private Jet
Twitter account, "Elon Musk's Jet," is one of the most popular out of 15 flight-tracking accounts 19-year-old Jack Sweeney developed last fall. The Twitter bot monitors Musk's private jet movements around the world. 
According to tech website Protocol, Sweeney recently received a direct message on Twitter from Musk requesting him to take down the account due to security risks. 
Sweeney replied: "Yes, I can, but it'll cost you a Model 3 only joking unless?"
Elon Musk's Jet has 88k followers and uses bots programmed to track every time Musk departs and arrives at airports worldwide.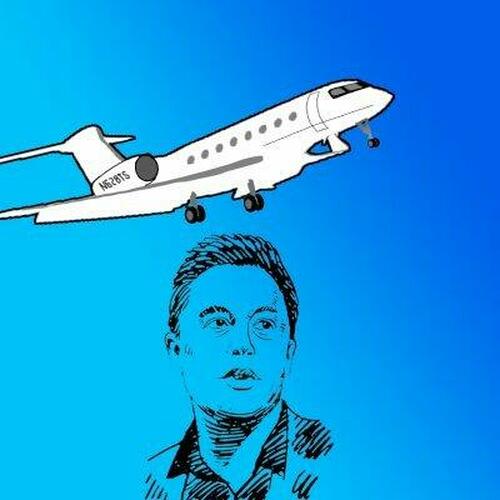 The account is becoming so popular that Musk is getting nervous. He told Sweeney, "I don't love the idea of being shot by a nutcase." 
Musk, the world's richest man (according to Bloomberg data), offered Sweeney a measly $5k to remove the account to "keep crazy people from tracking his location." 
Sweeney responded: "Any chance to up that to $50k? It would be a great support in college and would possibly allow me to get a car, maybe even a Model 3."
Musk has since gone radio silent since the last exchange on Jan. 19. 
For some color on the complexity of the bots tracking Musk's private jet. The protocol provides more color:
But Twitter bots don't get starstruck. They've just gone on parsing the data Sweeney's told them to. The 15 bots use FAA information when available — the administration keeps track of when and where planes depart and land, as well as their intended path. However, Musk's plane and many others are on the LADD block list, which removes identifying information from the data.

Even blocked planes aren't truly private, though. In these cases, Sweeney uses data from the ADS-B transponders present on most aircraft which show a plane's location in the air in real-time as charted on the ADS-B Exchange. Parsing this information is like a logic puzzle: Sweeney's bots can use a plane's altitude, combined with how long ago the data was received, to determine when it is taking off or landing. They can then cross-reference latitude and longitude with a database of airports to determine where the plane is leaving or headed. And though Sweeney's bots can't pull from blocked FAA data to figure out where a plane plans to go, they can cross-reference the real-time ADS-B data with another website that posts anonymized versions of the FAA flight plans. This allows the bot to match the plane it is tracking in real-time to the anonymized FAA flight plans and determine each plane's intended destination. This information is all entirely public, and can be used to track most private aircraft.
Tracking private jets of CEOs is nothing new in the hedge fund industry. There are services that some traders pay upwards of $100k to retrieve flight data of the movements of deal-makers. 
Quandl, a flight tracking company that sells data to hedge funds, noticed a private jet several years ago that flew to Omaha, Nebraska, home of billionaire investor Warren Buffett. Traders who had access to this data saw that representatives of Occidental Petroleum might be in talks with Buffett. 
Days later, Buffett's Berkshire Hathaway infused Occidental with $10 billion cash to proceed with its $38 billion cash and stock offer for Anadarko.
Rounding back to Sweeney, the proprietary bots he's created shouldn't be nuked but instead taken private and sold to a hedge fund or Quandl. 
According to Elon Musk's Jet's latest tweet, Musk just landed in Austin, Texas. 
Landed in Austin, Texas, US. pic.twitter.com/4l7tKiUspp

— Elon Musk's Jet (@ElonJet) January 26, 2022