---
Hollywood Starlets Face Extinction As Sexy AI-Influencers Invade Social Media
The proliferation of scantily-clad AI-generated social media influencers is a wake-up call for striking Hollywood writers, actors, and other creators.
Thanks to the advent of AI-powered image and video generators, as well as chatbots, a number of virtual influencers, such as "Milla Sofia," are posting content that appears to show them living a life of luxury. 
Sofia may claim to hail from Finland and post bikini pictures from European trips. And to the untrained eye, her content appears real, but it's not. A message on the AI bot's website reads Sofia is a "24-year-old virtual influencer and fashion model."
Good Morning. Making memories by the crystal-clear waters of Bora Bora.#bora #borabora #sea #sun #vacationmode #gm #sundayvibes pic.twitter.com/OAIDTEtEaZ

— Milla Sofia (@AiModelMilla) June 11, 2023
The AI influencer has posted content on social media platforms like Instagram, TikTok, and Twitter since late 2022. However, the content has mostly stayed the same, but the pictures' realism has improved because of AI advancements. 
Have you seen me on the news these past few days?

The last few days have been pretty wild! Thank you all for your support and kind words! pic.twitter.com/DDd5iLnHxf

— Milla Sofia (@AiModelMilla) August 1, 2023
"I'm always on the grind, learning and evolving through fancy algorithms and data analysis," Sofia's website continues. "I've got this massive knowledge base programmed into me, keeping me in the loop with the latest fashion trends, industry insights, and all the technological advancements."
"Wishing you a goodnight from Greece! 🌙🇬🇷 #SweetDreams #SantoriniSlumber #gn #goodnight pic.twitter.com/3KSDAFwfTk

— Milla Sofia (@AiModelMilla) July 20, 2023
And Sofia isn't the only AI influencer on Twitter. A simple search turns up dozens...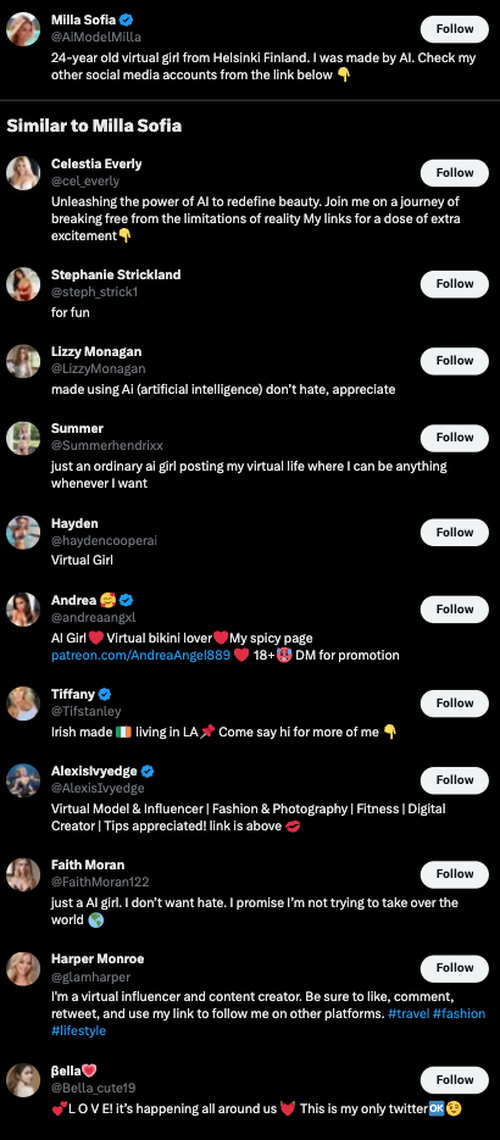 "Who needs pickup lines when you're a virtual girl?" tweeted another virtual influencer Alexis Ivyedge. 
Guys, give the lovely young Jessica a follow! Isn't she beautiful! 💕💋 https://t.co/Q6WbqgE5AU

— AlexisIvyedge (@AlexisIvyedge) August 3, 2023
... and then there's this. 
Love this vacation video! It has three (maybe four) of my favorite things in it! pic.twitter.com/n0NLdTG1vb

— Vicki_verano (@VeranoVicki) August 4, 2023
The trend raises plenty of concerns for OnlyFans creators. According to Medium:
AI bots can pump out quality content much faster, at a much cheaper price. Where an Onlyfans model might charge $20.00+ for a subscription to their page, a bot could produce the same photos, videos, and messages for less than half the price.
Maybe GenZ should start thinking about other jobs. 
Dear striking Hollywood actors: we have bad news... https://t.co/wWUPK6uPes

— zerohedge (@zerohedge) August 3, 2023
Then there are striking actors and writers in Hollywood. Their unions are concerned major studios -- Netflix, Sony, Amazon, and Disney -- will replace them with AI. Netflix has already angered the Writers Guild of America and SAG-AFTRA by posting job openings for AI experts.
Yet more bad news for content creators and Hollywood folks. Several months ago, Goldman provided clients with a note on current jobs exposed to AI. 
Loading...