---
So Much For SkyNet - Warehouse Robot Collapses After Working 20 Hours Straight
Authored by Katie Hutton via TheMindUnleashed.com,
When you're working on the production line at a factory and trying to fulfill ever-changing deadlines, being a busy robot might make life challenging.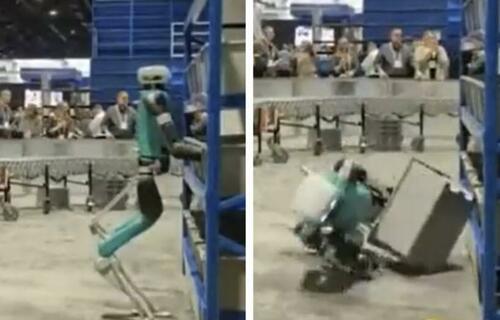 It is even more gruesome when you consider that the robot in question was designed to last for the longest amount of time possible.
Meet Digit. The motorized moving mess of bolts and wires known as Digit was the subject of the evaluation. And to be honest, throughout the twenty hours that it was working hard, Digit put in quite the effort and exhibited all of its nifty tricks and circuitry sorcery to all who were there.
Those unfortunate enough to have witnessed the tail end of Digit's demos definitely had at least one or two eyebrows raised.
With a 99% success rate over about 20 hours of live demos, Digit still took a couple of falls at ProMat.

We have no proof, but we think our sales team orchestrated it so they could talk about Digits quick-change limbs and durability. #ConspiracyTheories pic.twitter.com/aqC5rhvBTj

— Agility Robotics (@agilityrobotics) April 6, 2023
AFTER ALL, DIGIT DID EXPERIENCE SOME DEGREE OF FAILURE. AS IN, HE WAS OUT OF THE RUNNING FOR THE TIME BEING AFTER ITS COLLAPSE. THE ARTIFICIAL INTELLIGENCE COMPANY, ON THE OTHER HAND, BRAGGED OF A PHENOMENAL SUCCESS RATE OF 99.99 PERCENT FOR JOBS COMPLETED BY WAREHOUSE BOTS.
"We started with scientific breakthroughs and layered on top of that world-class engineering," they said in a press release.

"We approach everything with a focus on function. Our robots were designed from day one to do work and get the job done," they add.
In April, Agility Robotics posted the video, announcing that the hard-working bot has successfully completed over nearly 20 hours of live demonstrations despite suffering a few "scrapes and bruises" while doing its responsibilities.
Liz Clinkenbeard, vice president of communications at Agility Robotics, disclosed to the Associated Press that the company wants to show how a cool robot like Digit can pick itself up and move on when things are going badly for it.
"We wanted to show that Digit did fall a couple times, that it's a normal part of any new technology, and it's not a big deal," she said. When Digit drops, it is often because of a fault in the program or with the sensor.
Is this stability testing or an excuse to take Digit out on a nice spring day? Sometimes it's hard to know the difference. ☀️ pic.twitter.com/yFk6NSgsBb

— Agility Robotics (@agilityrobotics) April 28, 2023
"SOMETIMES IT MAY NEED A REPAIR; RARELY SOMETHING THAT TAKES MORE THAN 15-20 MINUTES," SHE ADDED. "WE DO WANT TO BE CAREFUL ABOUT NOT OVER-HUMANIZING A MACHINE OR ASCRIBING INTENT.
WHILE DIGIT LOOKS SOMETHING LIKE A PERSON, IN REALITY IT IS A COMPUTER THAT CAN DO PHYSICAL WORK, AND IT'S FOLLOWING A PROGRAM."
Since then, the footage of Digit falling over has been posted across many social media platforms. The footage has resulted in some quite obscene jokes being made concerning the well-being of the robot.
Some of the comments made on social media about Digit hinted that the hard-working AI may have offed itself because of the menial tasks it was forced to perform for little pay.
Loading...