---
SoftBank's Deal To Sell Arm To Nvidia In "Biggest Semiconductor Deal Ever" Killed By Regulators
Here's some more bad news for SoftBank: it's planned deal to sell its Arm subsidiary to Nvidia - once billed as "the biggest semiconductor deal ever" - is falling apart as the two companies have failed to win approval from global regulators.
While much has changed since the deal was struck in September 2020 (for one, a global supply crunch has restricted access to semiconductors, forcing governments to gather their 'strategic assets' closely like a squirrel with its nuts), one important fact hasn't: Following the bloodbath in US-traded tech stocks, SoftBank could really use the cash proceeds from the Arm deal to cover its other losses.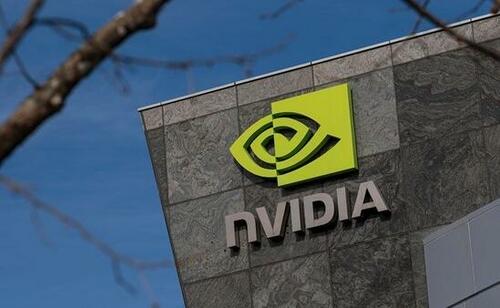 It's also a blow to the many bankers working on a deal that was valued at $40 billion back in September 2020.
According to Bloomberg, news about the deal's demise came out of the Nvidia camp; apparently, the company has been telling its own high-ranking employees that it doesn't expect the deal to be consummated. As a result, SoftBank is stepping up its efforts to take Arm public.
The British microprocessor powerhouse would probably be too large for a SPAC to swallow, as the value of the deal would eclipse even that of Grab's SPAC-aided market debut.
Surprisingly, it's not the Brits who are making the biggest stink about the deal: the FTC sued to stop the deal back in December, arguing that Santa Clara, Calif.-based Nvidia would become "too powerful" if it gained control of Arm's technology. BBG added that Chinese regulators have also pledged to stop the deal if the approval process ever should make it that far, according to one BBG source.
Interestingly, Nvidia's rivals have also rallied against the deal. Qualcomm, Alphabet, Apple, Microsoft (which has decided to follow in Apple's footsteps by seeking to build more of its own chips). Though it's not hard to see why.
If the deal were to close, it would catapult the valuation of US-based Nvidia past that of Taiwan-based TSMC, according to Bloomberg.
With the control of Arm's assets, Nvidia would become the world's most valuable chipmaker.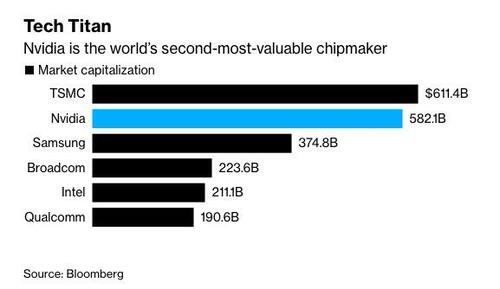 Source: Bloomberg
Understandably, the high stakes have created divisions within Nvidia's high command, with some resigned to the deal's defeat, and others pushing for the firm to consider other possible strategies for getting it done.
Should it somehow succeed, the deal would be a major coup for Nvidia CEO Jensen Huang, who has built a graphics-card business into a chipmaking empire. Already, he's sitting atop the most valuable American firm in his industry, with a market cap north of $500 billion. But if the recent past is any guide - most notably, Qualcomm's decision to abandon its pursuit of NXP Semis after two years of haggling with regulators - American regulators probably won't let it happen, especially with the White House so determined to "promote competition" by busting out the old antitrust hacksaw and taking a hostile attitude toward intra-industry consolidation.
All of that is especially bad news for SoftBank, because if it can't sell Arm to its biggest American rivals, then who else might be allowed to buy it?