---
South Korea To Acquire 'Suicide Drones' As Tensions In East Asia Surge 
The Second Cold War between the US and China has significant consequences across East Asia, especially on the Korean Peninsula. As a result of the escalating tensions, South Korea announced plans Monday to acquire advanced military hardware to better prepare for future conflict. 
Yonhap News Agency, citing South Korea's Defense Acquisition Program Administration (DAPA), said under the second round of the "rapid acquisition" project, it would procure 12 state-of-the-art weapons, worth $22.75 million, such as suicide drones and drones with guns. 
"They include light-weight suicide UAVs, drones that fire guns at ground targets, advanced surveillance plus attack drones, multipurpose unmanned vehicles, intelligent anti-jamming censors and a smartphone-based combat command system," according to DAPA.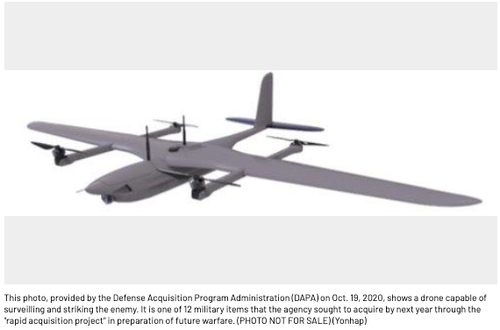 Agency officials said they issued a tender notice Monday and will choose the defense companies within the next couple of months to complete the orders; deliveries are expected sometime in the first half of 2021. 
DAPA launched the rapid acquisition project in May to better prepare its forces for conflict as the modern battlefield continually changes with new technology.
In the first round of the project, the arms procurement agency ordered four kinds of advanced military hardware: two surveillance drones, small unmanned aircraft and portable anti-drone guns.
"We will continue to improve arms procurement procedures to cut red tape and boost efficiency," DAPA chief Wang Jung-hong said.
South Korea must continue procuring advanced weaponry because President Trump swung a wrecking ball into the "liberal international order" and has since triggered a Cold War between the US and China.  
This also means that US allies, such as Japan and Taiwan, must also modernize their armies - as we've seen in recent years, Washington has placed stealth fighter jets in these countries.