---
"On Standby" - World's Largest Aircraft Prepares To Hit Skies For Second Time
Stratolaunch Systems Corporation, founded by the late billionaire Paul G. Allen, has built the world's largest aircraft by wingspan and is set to hit the skies for a second time.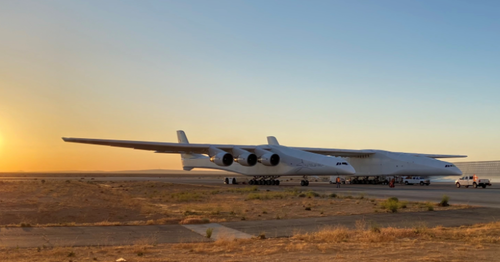 According to the company, Stratolaunch's airplane called the "Roc" conducted taxi tests on Friday, reaching speeds upwards of 127 mph. "We're gearing up to hit the skies," the company's Twitter account said. 
Today's taxi tests had Roc reaching speeds of 110 Knots (~127 MPH) throughout the morning and early this afternoon. After reaching these speeds for taxi test, we're gearing up to hit the skies. pic.twitter.com/x05TSb5KSW

— Stratolaunch (@Stratolaunch) April 16, 2021
On Monday morning, Stratolaunch stated that Roc is "on standby to fly today." They said, "we're waiting on the latest weather updates."
On standby to see if we are able to fly today. Waiting on the latest weather updates. pic.twitter.com/2LEZWOBQjt

— Stratolaunch (@Stratolaunch) April 19, 2021
The Roc is a dual fuselage design and has a 385 feet wingspan. The purpose of the aircraft is to air-launch rockets into low Earth orbit. 
The last time Roc flew was two years ago, in April 2019. The airplane flew for 2.5 hours, achieved a maximum speed of 189 mph, and soared to an altitude of 17,000 feet. The first flight allowed pilots to evaluate the airworthiness of the aircraft before landing successfully back at the Mojave Air & Space Port in California. 
With Roc on standby, the airplane could be imminently awaiting takeoff, dependent on weather conditions.