---
Starlink Competitor OneWeb Completes Satellite Constellation
The race to provide global high-speed internet through space-based networks is underway, heralding the potential beginning of a new era in communication.
London-based company OneWeb launched the final 36 satellites of its initial 616-satellite "constellation" via an Indian LVM3 rocket from the Sriharikota spaceport in Andhra Pradesh on Saturday.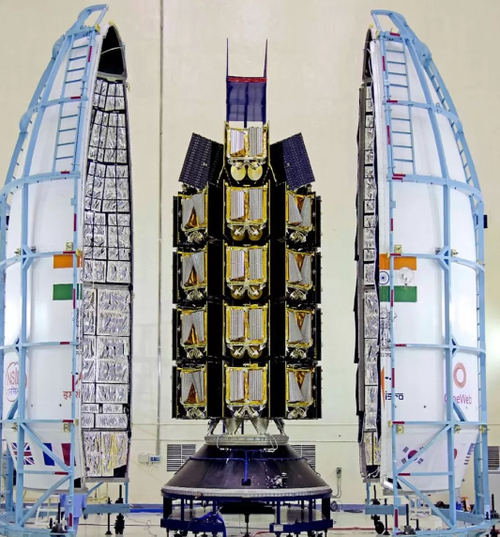 "It's the fruition of an enormous amount of hard work, and obviously, we've been through some geopolitical issues over the last year or so, and the team has proven to be extremely resilient and caught up," Chief Executive Officer Neil Masterson told Bloomberg ahead of the launch. 
LVM3-M3🚀/OneWeb 🛰 India-2 mission
is accomplished!

All 36 OneWeb Gen-1 satellites injected into the intended orbits

In its 6th consecutive successful flight, LVM3 carried 5805 kg of payload to Low Earth Orbit@OneWeb @NSIL_India

— ISRO (@isro) March 26, 2023
"This launch will be one of the most significant milestones in OneWeb's history so far, with the launch adding an additional 36 satellites to the OneWeb fleet, the first ever completed global LEO constellation," OneWeb wrote in a press release. 
Glimpses!
More in our other media. pic.twitter.com/saInoOQpt6

— ISRO (@isro) March 26, 2023
OneWeb's space-based internet will provide high-speed, low-latency solutions to communities, enterprises, and governments worldwide through its constellation of satellites. 
Besides OneWeb, there is only one other company flying more satellites in space today and a competitor: Elon Musk's Starlink system. 
However, OneWeb is different from Starlink because it's not selling broadband connections to individuals but rather to telecom companies that will then provide this internet service. 
Bloomberg noted OneWeb had a rocky past, filing for bankruptcy in March 2020, only to be rescued by the UK government and Indian telecom tycoon Sunil Mittal's Bharti Group. The company has attracted investments from Hughes Satelite Systems and SoftBank Group. 
More importantly, there's a space race to provide satellite internet worldwide. Musk's Starlink happens to be the leader. 
Loading...