---
Tesla Drivers Activate "Bioweapon Defense Mode" To Protect Against Wildfire Smoke
Tesla drivers are switching on an advanced air filtration system known as "Bioweapon Defense Mode" to shield against Canadian wildfire smoke blanketing the US Mid-Atlantic and Northeast states. 
Air quality alerts are at "hazardous" levels across the Baltimore–Washington metropolitan area to New York City. The unhealthy air is causing eye irritation and inducing coughing among many people, prompting those with severe health issues to seek a doctor.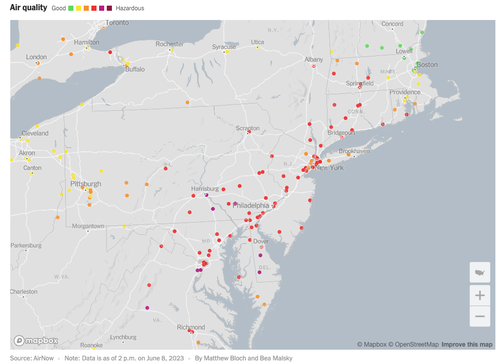 But those driving in certain Tesla vehicles are equipped with a HEPA filtration system capable of stripping the outside air of smoke and other harmful particles and systematically scrubbing the air inside the cabin to eliminate any trace of these particles. The result is the Bioweapon Defense Mode that drivers are switching on in a real-world test, proving that Tesla is ahead of the curve of major automakers. 
"Never thought I'd actually have to use this.. Location: Long Island," one Reddit posted.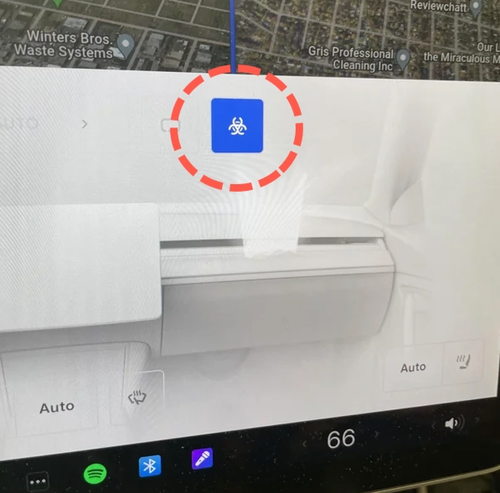 Other Tesla drivers touted the feature as they road down roadways with cabins full of scrubbed air. 
BioDefense engaged in Manhattan pic.twitter.com/wKG5HUrtt1

— Supercharged⚡️ (@Supercharged_tv) June 8, 2023
Very thankful for biodefense mode in my @Tesla with how bad the air quality is today. @elonmusk pic.twitter.com/oQZF9jwHfz

— David Piccolo (@DavePiccolo) June 8, 2023
Tesla biodefense mode came in pretty handy the last few days in nyc. @Tesla

— Coors Light (@NYCSubwaysSuck) June 7, 2023
Finally had a chance to use Bioweapon Defense Mode in my Tesla for the first time to combat the horrible air quality on the East Coast!

I will never buy another car that doesn't have a HEPA filter. pic.twitter.com/YD2GLAoIZh

— Jeff 💙✌️ (@JeffTutorials) June 7, 2023
Tesla HEPA Bio Defense Mode do really come in handy. ☣️ 😷 #TeslaBioWeaponDefensemode pic.twitter.com/YceYEQuJxJ

— Victor Lannsann (@VictorLannsann) June 8, 2023
@elonmusk loving the bio defense mode for my #tesla #modelY. The air in NJ/PA is terrible today b/c of the fires, but the air inside my Tesla is amazing. Thank you, thank you!

— Caroline Arena (@_carolinearena) June 8, 2023
"Bioweapon Defense Mode is not a marketing statement, it is real. You can literally survive a military-grade bio attack by sitting in your car," Tesla wrote on its website—or at least stop from coughing up a lung due to Canadian wildfire smoke. 
Loading...