---
Tesla 'Pauses Full Self-Driving Beta' Amid US Recall
Tesla published a note on its website explaining the rollout of the $15,000 driver-assistance system (Full Self-Driving Beta) has been "paused" until a new software upgrade can be deployed over the air to address the recent recall of 362,758 vehicles equipped with FSD Beta. 
"Until the software version containing the fix is available, we have paused the rollout of FSD Beta to all who have opted-in but have not yet received a software version containing FSD Beta," Tesla said. 
The pause affected Tesla drivers who bought FSD but were being vetted by Tesla for Beta approval. Also, no new customers can add FSD Beta while Tesla works on an update to address the National Highway Traffic Safety Administration's (NHTSA) recall with certain 2016-2023 Model S, Model X, 2017-2023 Model 3, and 2020-2023 Model Y vehicles. 
Here's what NHTSA said earlier this month about the FSD Beta recall:
The FSD Beta system may allow the vehicle to act unsafe around intersections, such as traveling straight through an intersection while in a turn-only lane, entering a stop sign-controlled intersection without coming to a complete stop, or proceeding into an intersection during a steady yellow traffic signal without due caution.

In addition, the system may respond insufficiently to changes in posted speed limits or not adequately account for the driver's adjustment of the vehicle's speed to exceed posted speed limits.
Tesla notes that FSD Beta has features that signal drivers with "visual and audible warnings" to pay attention to the road. Tesla said:
"The driver is responsible for operation of the vehicle whenever the feature is engaged and must constantly supervise the feature and intervene (e.g., steer, brake or accelerate) as needed to maintain safe operation of the vehicle." 
Tesla also said customers with FSD Beta are not required to take any immediate actions.
As of this morning, Tesla users can still purchase the $15,000 driver-assistance system (but won't be cleared for FSD Beta).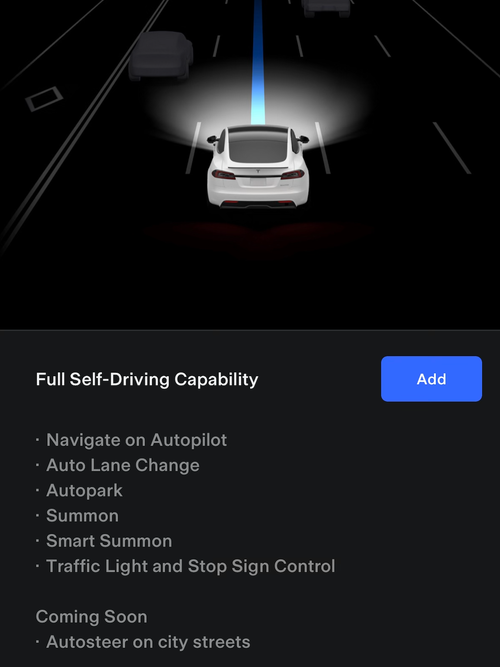 Is FSD Beta worth it? 
Loading...