---
Tesla Posts Abysmal Score In J.D. Power's Initial Quality Study For 2020
Aside from a new NHTSA investigation into its Model S touchscreens, a litany of Model Y quality issues and a report out yesterday that Tesla may have knowingly allowed Model S vehicles to roll off its production line with a flaw that could cause them to go up in flames, it's been an otherwise tame week for Tesla.
Oh, wait. There is just one other thing: J.D. Power finally included Tesla in its Initial Quality Survey for 2020 and the brand scored an abysmal 250, placing it below literally dozens of other manufacturers, including names like Land Rover and Audi, in terms of reliability.
The survey has been put out annually for the last 34 years and works by asking buyers of new cars of the current model year what problems they have had within the first 90 days of owning a vehicle. The score is based on the number of problems experienced within those 90 days per 100 vehicles.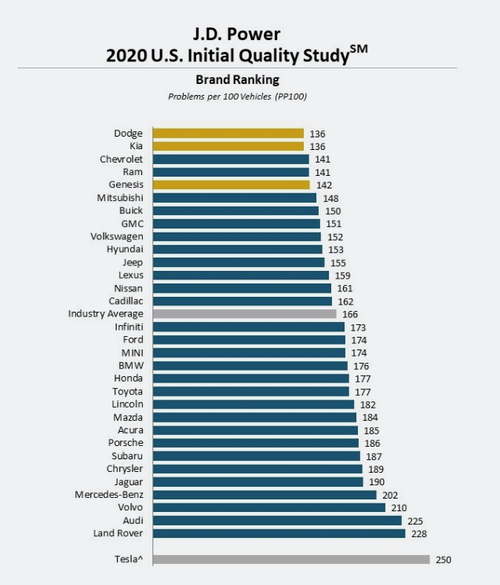 One feather in the cap for Tesla is that they can't technically be ranked last out of all brands because it won't allow J.D. Power to survey its customers in 15 states where OEM permission is required, according to ARS Technica. 
But that didn't stop J.D. Power from going on record about how accurate they thought their findings were. Doug Betts, president of the automotive division at J.D. Power, said:  "However, we were able to collect a large enough sample of surveys from owners in the other 35 states and, from that base, we calculated Tesla's score."
The survey asks 223 questions that are split into nine categories, including "infotainment, features, controls and displays, exterior, interior, powertrain, seats, driving experience, climate, and even driving assistance."
Infotainment was the worst scoring category on the survey this year, as people experienced issues with their voice recognition, Bluetooth, GPS and Android/iOS pairing capabilities. Recall, just yesterday, the NHTSA launched a preliminary evaluation into Tesla's touchscreens on its Model S vehicles.