---
Tesla 'Recalls' Over 360,000 Full-Self-Driving Vehicles, Plans OTA Update Fix
Tesla is recalling nearly 363,000 vehicles with its "Full Self-Driving" system to fix problems with the way it behaves around intersections and following posted speed limits, according to a NHTSA filing Thursday.
The 'recall' includes certain 2016-2023 Model S, Model X, 2017-2023 Model 3, and 2020-2023 Model Y vehicles
The FSD Beta system may allow the vehicle to act unsafe around intersections, such as traveling straight through an intersection while in a turn-only lane, entering a stop sign-controlled intersection without coming to a complete stop, or proceeding into an intersection during a steady yellow traffic signal without due caution.

In addition, the system may respond insufficiently to changes in posted speed limits or not adequately account for the driver's adjustment of the vehicle's speed to exceed posted speed limits.
As CNBC notes, only Tesla owners who have the company's premium FSD driver assistance system installed in their cars can join the FSD Beta program. That option now costs $15,000 up front or $199 per month in the U.S. today. Owners must obtain a high driver-safety score, as determined by Tesla software that monitors their driving habits, and maintain it to get FSD Beta access.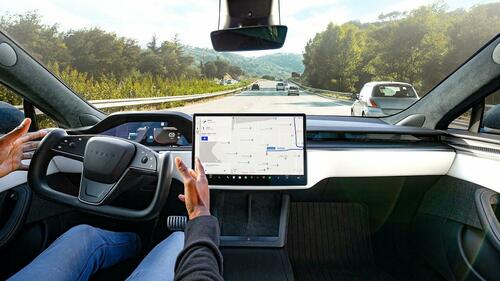 Tesla is expected to fix the issue through an over-the-air software update, free of charge, by April 15, the US National Highway Traffic Safety Administration said.
Definitely. The word "recall" for an over-the-air software update is anachronistic and just flat wrong!

— Elon Musk (@elonmusk) February 16, 2023
TSLA slid into the red after the headlines hit, but for now the selling is modest in context...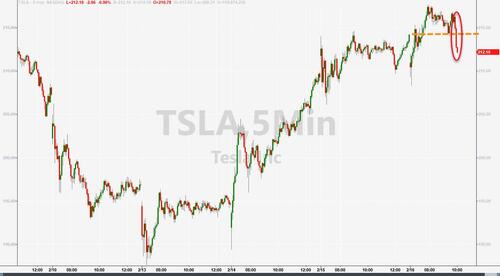 Finally, we note that the NHTSA documents say Tesla is doing the recall but does not agree with an agency analysis of the problem.
Loading...