---
Tesla That Smashed Into State Trooper Conducting A Traffic Stop Found To Be On Autopilot
We now know that Tesla's Autopilot was to blame - yet again - for another near-fatal accident that took place last December. A Massachusetts State Police trooper had just pulled over a vehicle on the side of Route 24 in West Bridgewater when the trooper's vehicle was slammed into by the Tesla. 
The driver who was pulled over, Maria Smith, said: "It just happened so quick. Before I knew it, my car was flying forward. I looked behind me, and my whole back windshield was blown out. There was glass in my hair."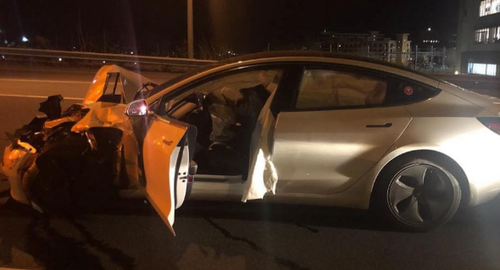 A man "driving" the Tesla had slammed into the State Police cruiser that, in turn, wound up slamming into the stopped SUV.  Nicholas Ciarlone, the driver is now facing a negligent driving charge, according to NBC 10.
The car was "finally stopped several hundred feet ahead" by another state trooper.
Court documents shows that when a trooper responded to the scene to help, Ciarlone said that he "must not have been paying attention." Recall, at the time of the accident, we reported that the driver said that he had put the car in Autopilot because he was checking on his dog in the back seat. 
Smith said: "I thought that was terrifying. To think the sensors are not equipped enough to pick up a police car with its sirens and lights on the highway."
At the time of the accident, state police took it as an opportunity to remind people that there are no vehicles yet that are fully automated.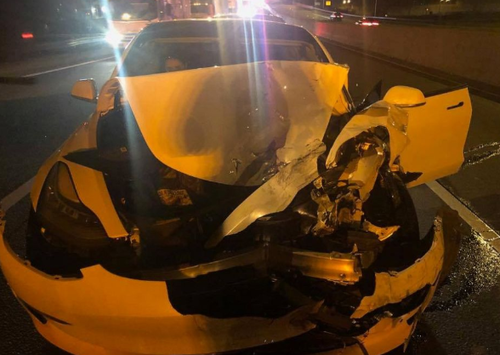 "Regardless of your vehicle's capabilities, when operating a vehicle your full attention is required at all times to ensure safe driving," state police concluded.
Even the NBC 10 article pointed out a number of other Autopilot accidents that have occurred recently, including:
Auto safety watchdog Sean Kane said about Autopilot: "We are all involved in a clinical trial that we didn't sign up for."
Recall, we wrote in January 2020 that Senator Ed Markey had referred to Autopilot as a "flawed system". He said at the beginning of the year that Tesla should rebrand its driver-assist technologies and take "additional steps to ensure drivers pay attention to the road while using the system."