---
Tesla Systems Reportedly Suffer 'Complete Network Outage'
Update (1145ET): Elektrek just tweeted that the functionality started to return to some Teslas at around 11:35.
Connectivity is now returning to cars starting at 11:35. Some are still experiencing some issues https://t.co/MAXHsoGvGg

— Electrek.Co (@ElectrekCo) September 23, 2020
Others are still experiencing issues.
* * *
Tesla's global network has inexplicably crashed, according to Elektrek, which cited users around the world being unable to access their cars via their mobile apps.
Can't connect to the car via app

— Vaibhav (@vaibhav91) September 23, 2020
According to Elektrek, sources familiar with the matter are saying that Tesla's internal systems are currently inexplicably down and on the customer-facing side, Tesla owners couldn't connect to their cars through the mobile app starting at around 2300ET last night.
Shares, which have been under pressure al morning coming off yesterday's "Battery Day", tumbled on the news.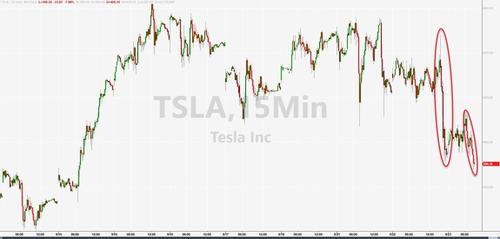 An outage is also impacting Tesla's energy products, with Tesla solar and Powerwall owners not being able to monitor their systems.
Of course, it isn't the first time that Tesla had a system-wide outage, but according to Elektrek, they are "fairly rare".
Amusingly, this extended selloff comes on the heels of Dave Portnoy doubling down. Just an hour ago, the Barstool Sports founder and 'Davey Day Trader Global' star exclaimed he would "put my d*** in [Tesla's] mouth" if the stock dropped below $400.
"That was a little much," he added afterward. "Even for me."
That was aggressive... but I'm about to buy the shit out of it. #DDTG $TSLA pic.twitter.com/ukVywn68hu

— Dave Portnoy (@stoolpresidente) September 23, 2020
Just imagine if this keeps happening once Elon Musk's promised 'self-driving car' - only $25,000! - ever becomes a reality.