---
Tesla Tumbles After-Hours As Company Announces Recall Of 15,000 Model X SUVs
While the rest of the world has been distracted counting their winnings from Tesla's recent short squeeze, the company has decided to discreetly issue a recall on 15,000 Model X SUVs due to a potential issue that can lead to a loss of power steering assist.
Tesla stock slid about $15 after the bell on Wednesday after the announcement hit the wire...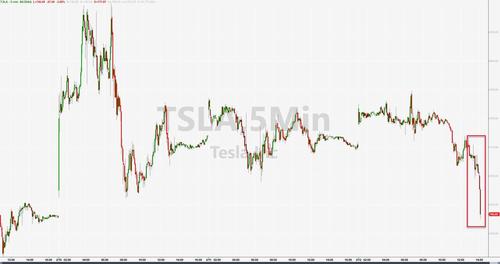 The issue could "make steering harder and increase the risk of a crash," according to Reuters.
The National Highway Traffic Safety Administration and Transport Canada pointed out the issue, stating that aluminum bolts that attach the electric power steering gear assist motor to the gear housing could corrode and break. 
This could then cause a reduction or complete loss of power steering in some model 2016 vehicles. Tesla says it'll arrange for the replacement of the mounting bolts and will also replace the steering gear if necessary. 
Good luck getting that service appointment. And just think, these weren't even the cars that were built in a tent.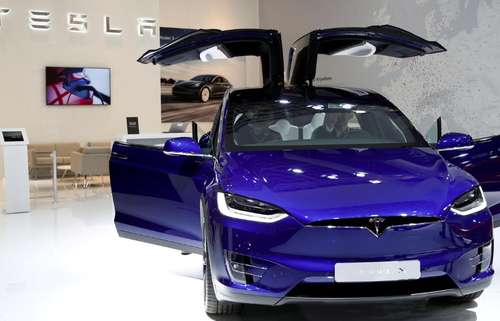 The NHTSA claims there have been no injuries or crashes associated with the issue. Meanwhile, we reported less than 48 hours ago that the NTSB found that Autopilot played a role in the death of a Tesla driver in Delray Beach, Florida last year. 
The driver had set the car to go 69 miles per hour 12.3 seconds before the crash took place on a highway that had a speed limit of 55 mph, according to Bloomberg. The NTSB also revealed that the driver's hands were not on the wheel for the final 7.7 seconds before the crash. 
The NTSB had also arrived at similar findings regarding a 2016 Florida crash where another Tesla driver didn't react to a truck in the roadway. In that instance, the NTSB found that Tesla's Autopilot design contributed to the cause of the accident.
Hilariously enough, despite the Model X recall of 15,000 vehicles, there are still hundreds of thousands of Tesla vehicles that are Autopilot-enabled, allowed on the roads.