---
Threads' Piracy Issues And Why Meta's New App Can't Launch In Europe
Authored by Bryan Jung via The Epoch Times,
Meta's answer to Twitter, Threads, launched worldwide this week with the exception of EU member countries.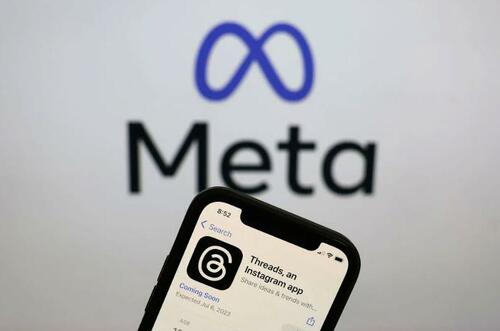 The new Instagram-linked app, which is now available in 100 countries, so far has no plans to launch in the EU, likely due to privacy regulations in the bloc.
There are obviously very strong concerns over the processing of data of EU citizens, as Meta has been penalized by the bloc's data protection watchdogs in recent months.
The company has already informed the Irish Data Protection Commission that it has no plans to launch Threads in Europe, reported The Irish Times.
So far, Meta has not officially commented on the alleged issues with EU law. But it has not been actively blocked by the Irish regulators, which serves as Brussels' lead privacy enforcer.
The company seems to be figuring out how to launch its app in the EU, due to its stringent rules around data protection.
EU Privacy Rules Likely a Deterrent For Threads in Europe
The EU's incoming Digital Markets Act, which will enforce new rules on how online "gatekeeper" platforms can function in Europe, must now be taken into consideration.
More guidance on how social media companies can be approved by the European Commission for gatekeeper status will be released in September.
Meanwhile, recent court rulings in the EU against Meta are also likely behind the delay in the app's launch.
EU authorities said in January that the legal basis that Meta had been using to process its personal data from European Facebook and Instagram users to run targeted ads was unlawful.
Meta was hit with $435 million worth of fines, with the big tech firm appealing the ruling.
The European Court of Justice (ECJ) later ruled on July 4 that Meta's Facebook could not use "legitimate interest" to justify processing user data for advertising.
This effectively shut down Meta's targeted ad model.
The ECJ also ruled that EU watchdogs could take into consideration tech companies' violations of data privacy in antitrust investigations.
These decisions are some of several legal assaults by the EU on the foundations of Meta's business model and on big American tech companies in general.
Meta was also barred from transferring Facebook user data from the EU to the United States and was fined $1.3 billion after a crackdown by European privacy regulators in May.
The penalty followed a long investigation into transfers by Facebook of Europeans' personal data overseas, which is a violation of EU privacy law.
The company is currently going through the courts to have the decision reviewed. If upheld, the ruling could be the death knell for Facebook in the EU, reported Quartz.
Some Europeans Already Have Illegal Access to Meta's New App
Data privacy experts said they didn't believe that the latest court rulings were considered a major factor in Meta's decision, as a new agreement between Brussels and Washington is pending that would create a legal basis to transfer data to America.
Despite Meta's shutout from the bloc, there are many EU citizens already using Threads, with some using several workarounds to get the app onto their devices.
This means that Meta is processing the data of EU citizens, even if it is intending to avoid that.
Some methods include having access to an app store account outside the EU, sideloading it into an Android device outside the Google Play Store, or using a virtual private network, which can fake a location to make it appear that the user is living in a country where Threads can be downloaded.
"Meta's failure to launch Threads in the EU is more to do with making a point about European regulation than the business case for launching," Niamh Burns of Enders Analysis, a media research group, told The Hollywood Reporter.
Ms. Burns noted that the setup of the new app, which involves bundling Instagram and Threads to create a "captive audience," will not allow you to delete your Threads account without deleting Instagram.
This "is the kind of thing European regulators hate," she said.
Critics warn that Thread's privacy policy admits that it is designed to track everything about its users; from location, employment, and browsing history, to health and financial data, in order to better facilitate targeted advertising.
The data would be sent to "service providers" and "analytics partners," also known as third-party advertising and marketing firms.
In fact, those factors would be in total violation of EU privacy rules.
Brewing Rivalry
The rivalry between Twitter CEO Elon Musk and Meta CEO Mark Zuckerberg has been getting increasingly tense, after Musk noticed that the rival Threads app closely resembled Twitter visually.
The Meta CEO said he created Threads as a response to Twitter and hoped that his app, will be an alternative to the platform, which has seen both improvements and chaos after his rival Mr. Musk bought the platform.
Mr. Zuckerberg said more than 30 million people signed up to use Threads in the first 24 hours after its launch.
Within hours of Thread's launch, Mr. Musk threatened to sue Mr. Zuckerberg, and on July 6, Twitter sent a cease & desist letter to Meta over the new social media app, ABC News reported.
Twitter accused Meta of hiring dozens of former Twitter employees who still have access to the social media platform's trade secrets, calling Threads a "copycat."
An attorney representing Twitter, Alex Spiro, accused Meta of hiring former Twitter employees to develop Threads, with the intent to engage in the "systemic, wilful, and unlawful misappropriation of Twitter's trade secrets and other intellectual property."
"With that knowledge, Meta deliberately assigned these employees to develop, in a matter of months, Meta's copycat 'Threads' app with the specific intent that they use Twitter's trade secrets and other intellectual property in order to accelerate the development of Meta's competing app, in violation of both state and federal law as well as those employees' ongoing obligations to Twitter," wrote the Twitter legal team.
A few days after filing the claim, the Twitter CEO attacked Mr. Zuckerberg, posting, "Zuck is a cuck."
Meta communications director Andy Stone posted a statement on Threads in relation to the lawsuit, saying, "No one on the Threads engineering team is a former Twitter employee—that's just not a thing."
U.S. copyright law does not cover ideas, so Twitter would need to prove that intellectual property was stolen if the case goes to court.
This is not the first time that Meta has closely copied rival products in the past, including the 2020 launch of Instagram's Reels feature, which is very similar to TikTok's short 20-second video format.
The Epoch Times has reached out to Meta for comment.
Loading...