---
Two 'Contractors' Allegedly Responsible For Crashing FAA System, Grounding All US Aircraft
The Federal Aviation Administration's Notice to Air Missions (NOTAM) system, which alerts pilots and other personnel about airborne issues and delays at airports nationwide, experienced a massive outage on Wednesday that resulted in travel chaos of over 10,000 delayed flights and more than 1,000 canceled. 
The White House quickly squashed speculation of a potential cyber attack. President Biden's Transportation Secretary, Pete Buttigieg, has since ordered an investigation of NOTAM's outage.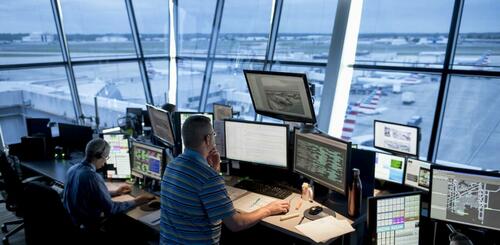 Bloomberg reports that a person familiar with the FAA investigation might already know what caused headaches for tens of thousands of travelers -- just weeks after the Southwest Airlines debacle. 
The person said unspecified "personnel" corrupted a file on the NOTAM system, resulting in a nationwide outage.
The preliminary indications are that two people working for a contractor introduced errors into the core data used on the system known as Notice to Air Missions, or Notam, according to a person familiar with the FAA review. The person asked not to be identified speaking about the sensitive, ongoing issue. 

Like other computer systems that are critical to operating flights, the FAA has imposed procedures to ensure data aren't damaged by technicians working on them, said the person. The file or files were altered in spite of rules that prohibit those kind of changes on a live system. --Bloomberg 
The question many are asking is if there was any wrongdoing: 
Agency officials are attempting to determine whether the two people made the changes accidentally or intentionally, and if there was any malicious intent, the person said. --Bloomberg 
The NOTAM system is more than three decades old. Perhaps Buttigieg should refocus his efforts on upgrading the FAA's system instead of making it 'more inclusive.'  
Loading...