---
US Air Force Deploys Robo-Hounds During Base Security Exercise
The U.S. Air Force deployed "robot dogs" during an exercise in early September at Nellis Air Force Base in Nevada to scout for threats before soldiers exited an aircraft. 
The Ghost Robotics Vision 60 robot, a four-legged autonomous unmanned ground vehicle, with similar characteristics to Boston Dynamics' spot robotic dog, was tested under the Advanced Battle Management System, an Air Force project designed to provide commanders with the ability to control smart military assets in real-time.  
The robots were deployed from an Air Force LC-130 Hercules cargo plane that flew from Buckley Air Force Base in Colorado to Nellis, carrying airmen and the robot dogs. Once the plane landed, the robo-hounds were released to conduct inspection, surveillance, and or mapping missions of the base perimeter. The robot dogs also patrolled the perimeter of the base once the airman stabilized the area during the war exercise.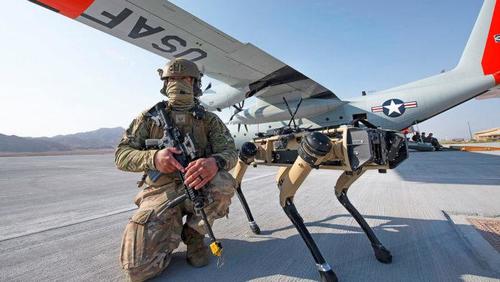 "Our defenders employed the robot dogs," said Master Sgt. Lee Boston, 321st CRS loadmaster and the C.R. team chief for the exercise. "These robot dogs are a new technology that we're testing as part of the exercise. The dogs give us visuals of the area, all while keeping our defenders closer to the aircraft."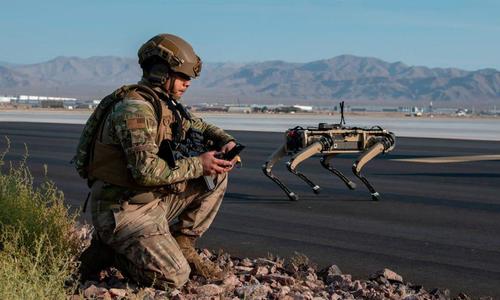 Details are scant on Ghost Robotics' website about Vision 60, but calls the robot "unstoppable" and says it is "highly-agile and fast," along with "autonomous" features. Also, the dogs cannot be killed and can stealthily patrol wider areas than real dogs due to the use of optical sensors and artificial intelligence. 
The company also mentions a wide range of U.S. and allied military, homeland, intel, and public safety agencies are customers that are using these robots. 
So despite dystopian warnings about robot killer dogs, such as scenes featured in Black Mirror, the military's Vision 60 is helping soldiers stay alive ... but maybe that's the case right up to the point Skynet turns on us all. 
... Robot dogs were also spotted in Singapore earlier this year, enforcing social distancing.